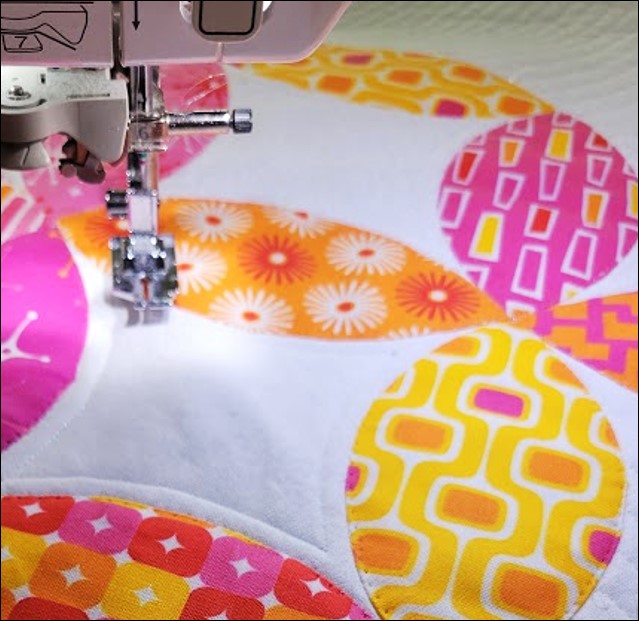 Machine quilting doesn't need to be fussy, difficult, or complicated to be effective (Although over-the-top quilting can certainly be gorgeous!) One of my favorite techniques that is also super-easy and beginner-friendly is echo quilting.
Echo quilting is simply choosing a seam in a pieced quilt or the edge of an appliquéd shape and stitching parallel to that seam or around that shape, usually with a consistent seam allowance. I most often use a 1/4″ seam allowance, but you can go wider or narrower – whatever you think looks best.
Echo quilting inside a seam line or appliquéd shape can look similar to the classic hand quilting technique of stitching about 1/4″ inside each shape – the distance being just enough to avoid hand stitching through the bulk of the seam allowances.
If you look closely at the two photos above, you'll see that that there's no rule about which seam lines you need to echo – I often skip short diagonal lines in favor of long straight lines that are easy to quilt with my walking foot. I also try to keep my stitching as continuous as possible instead of quilting inside each shape separately, as you might with hand quilting.
Echo quilting can also look great on more modern looking quilt patterns.
Echo quilting isn't just for straight lines – it looks great with curves, too! Straight lines or curved, there are no rules about how many lines you need to stitch – you can stitch just one line of echo quilting or as many as you like.
It can also be fun to combine a bit of echo quilting with other machine quilting techniques. The Spring Equinox sample above shows a combination of free-motion and walking foot quilting techniques. For the quilt below, I combined appliqué-and-quilt in 1 step with channel quilting and echo quilting.
And here's an example where I've used a bit of echo quilting on either side of the outermost lines to complement a Celtic-style appliquéd design.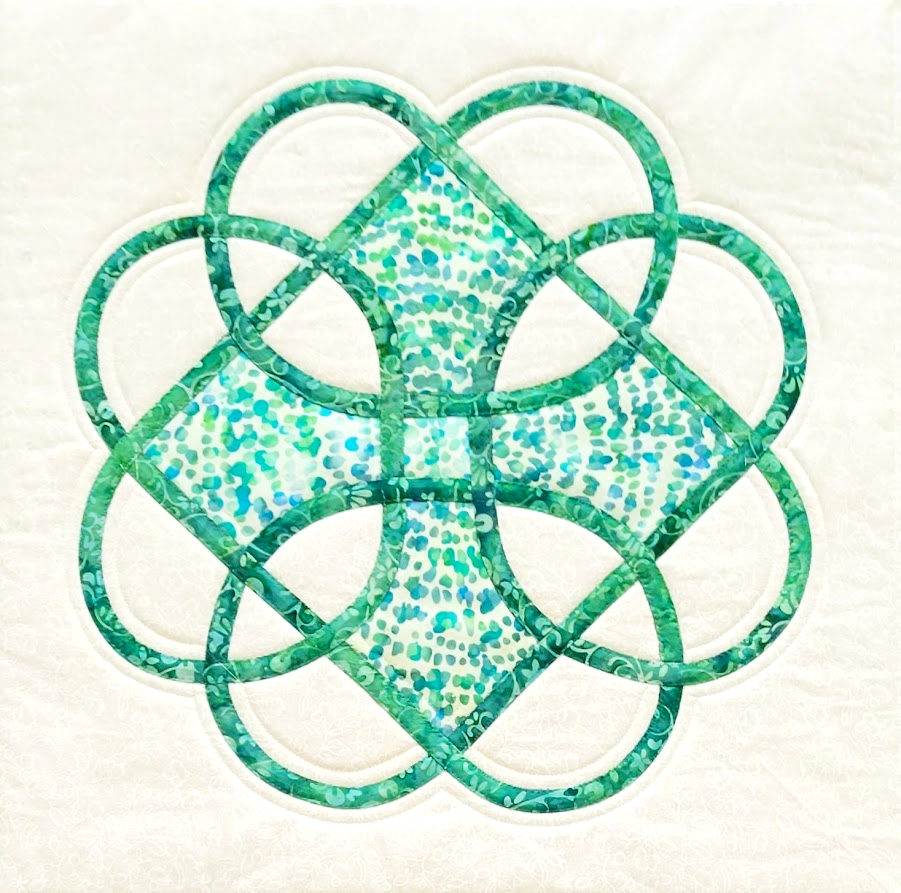 How do you (or would you) use echo quilting?
If you'd like to learn more, check out the most current listing of my Easy & Effective Machine Quilting with a Walking Foot online class in my online shop.
Happy Quilting!
Please follow and like us: