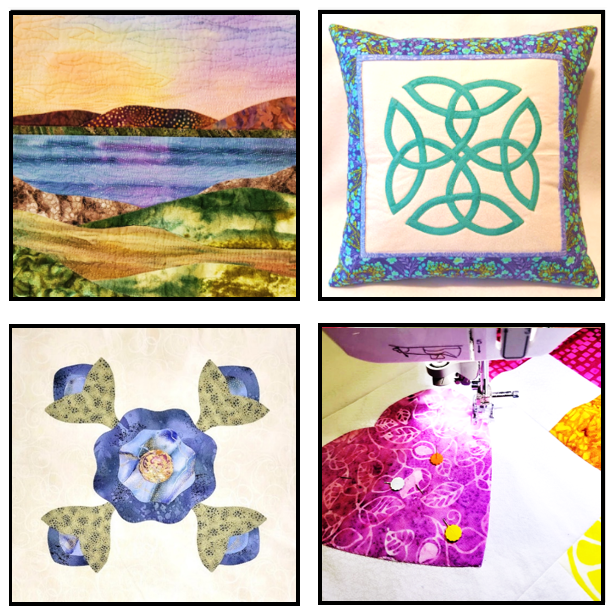 (Updated July 25, 2023) With the new sessions of the Magic of Invisible Machine Appliqué and Celtic Blessings Invisible Machine Appliqué classes coming up this fall, I thought it might be a good time to share a few of my most-used (and most asked-about) tools and notions. These are all tools that I've used for years and have stood the test of time. I hope you'll find this short list helpful!
These are all affiliate links to the exact products I purchased for my own use. Using an affiliate link does not affect the price you pay, but it does help support my website. I strongly support buying from your local quilt shop whenever possible, but sometimes you just can't beat ordering online.
I understand that many of you live outside of the United States, and that ordering and shipping through a US site might be cost-prohibitive. If that's the case for you, I hope these links can at least make it easier for you to find these (or similar) products where you live.
I don't use freezer paper for all of my methods, but it is a favorite! It's more economical to buy it on rolls like this; but, you can also find it in precut sheets that you can run through your printer – very convenient!
Please note: freezer paper is not needed for my Celtic-style appliqué.
I don't use interfacing for all of my methods; but when I do use it, this is my favorite. I find woven interfacing a bit easier to trace onto without stretching or distorting the interfacing. That said, you can substitute your own favorite lightweight fusible interfacing if you don't have this one on hand.
Please note: interfacing is not needed for Celtic-style appliqué.
As I've taught around the country, I have found MonoPoly from Superior Threads and the Invisible thread from Aurifil seem to work the best in the greatest number of machines. I use the clear version of both brands – only use the smoke if I'm working with black or very dark fabrics. Either way, I use it only as a top thread, preferring very fine cotton or poly in the bobbin. (We dive deeper into those options in class.)
These are my go-to sewing machine needles for all styles of machine appliqué. The very sharp point pierces the fabric(s) cleanly and the slim shaft makes a very small hole that is a great match for the fine threads I use. This really helps make it less likely for the bobbin thread to be pulled to the top of the fabric.
It's called the Adaptor because it is also available bundled together with interchangeable tips, but I find that I really only need the original tip (as shown here). I love this mini-iron because it gives me vastly superior visibility as I'm working AND is so much lighter and more maneuverable than a regular iron.
I've used this water soluble basting glue for years and years, and it's still my favorite. The fine applicator tip makes it easy to dispense the tiny dots of glue that I'm looking for. Once heat-set, the glue holds extremely well, but can easily be washed out. My only complaint was that squeezing the original bottles made my hands ache. I find the EZ squeeze bottles MUCH easier to use.
Note: I most often use water soluble basting glue with freezer paper-on-top and Celtic-style appliqué.
These were a little harder to find – I didn't find the yellow plastic Quilter's Press Bars from Collins or Dritz that I've used in the past, but I did find these green Clover Loop Pressing Bars that work the exact same way. I consider these a MUST for most Celtic-style appliqué.
This is my go-to for raw-edge fusible appliqué, so you might wonder why it's on this list. I'm including it here because I often use it in my Celtic-style appliqué projects. I find it helpful to fuse any inset fabrics in place before adding the bias tubes that will cover all the raw edges of the (optional) insets.
Please note: I only used 1 sheet when I made my Celtic Blessings sample. I am including the double-pack here because it seems to be the most economical optional at the time of my search.
I've used a number of different models and sizes over the years. These two were the most recent additions to my collection, and I've been very happy with them. There are very slim, easy to store or to transport to class, and have adjustable light levels.
If you are in the Celtic Blessings class, please be sure to read your supply list carefully ahead of time so you'll have everything you need for class. I'm looking forward to seeing you soon!
And even if you don't plan on joining us for class, I hope you find these links helpful. 🙂
Please follow and like us: