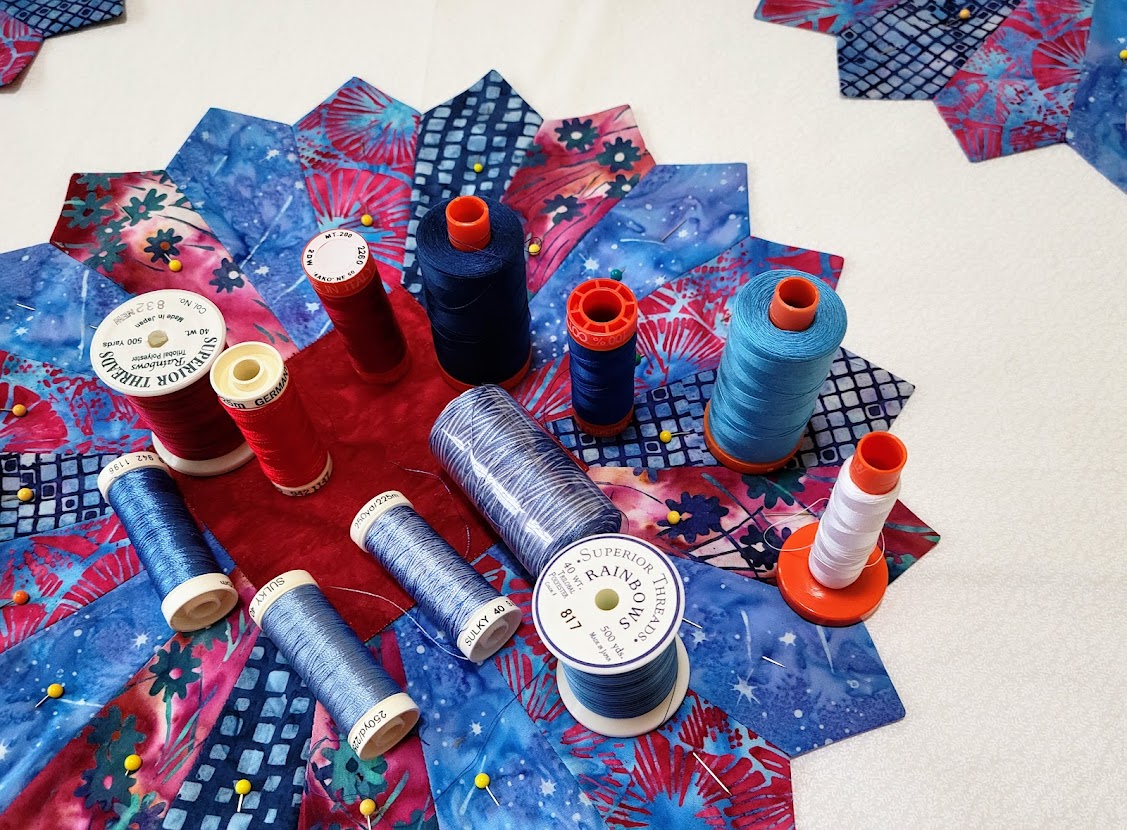 How do YOU decide what thread to use when you machine quilt? Do you have a go-to favorite? Have you ever played with any other options?
My go-to thread is 50wt. Aurifil cotton – the same thread that I use for piecing my quilts. It's strong, colorfast, easy to work with, reliable, and has just a bit of subtle sheen.
But sometimes a girl wants to be a bit fancy!
And I am certainly prepared; I love thread almost as much as I do fabric! 😉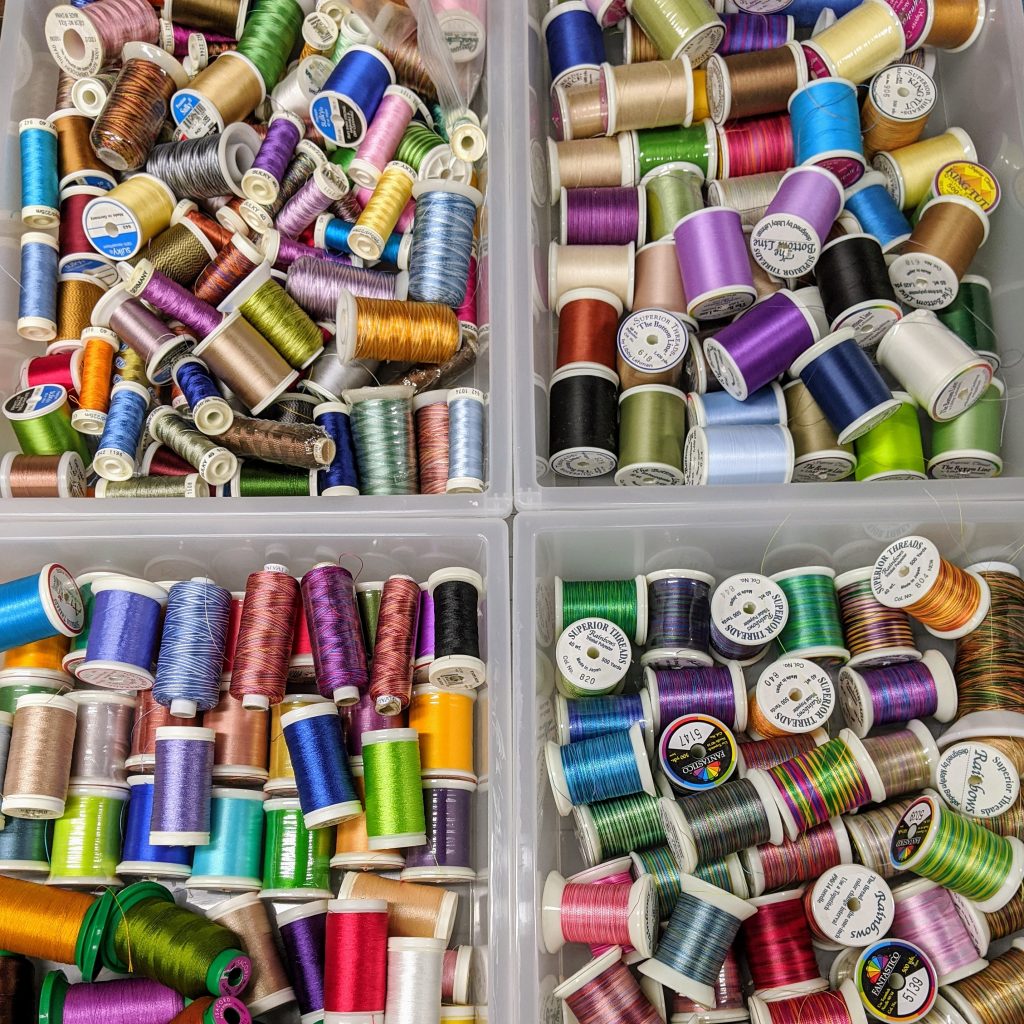 I chose to make a small wall hanging or table mat with the beautiful fabrics in the July Java Batiks box from Cotton Cuts. I made a Dresden Plate for the center and a fan for each corner.
When it came time to appliqué and quilt, I pulled a wide assortment of threads to consider. Since it's a piece that will be laundered occasionally but not frequently, I felt it was a great candidate for decorative thread. (My inner magpie enjoys a bit of shine!)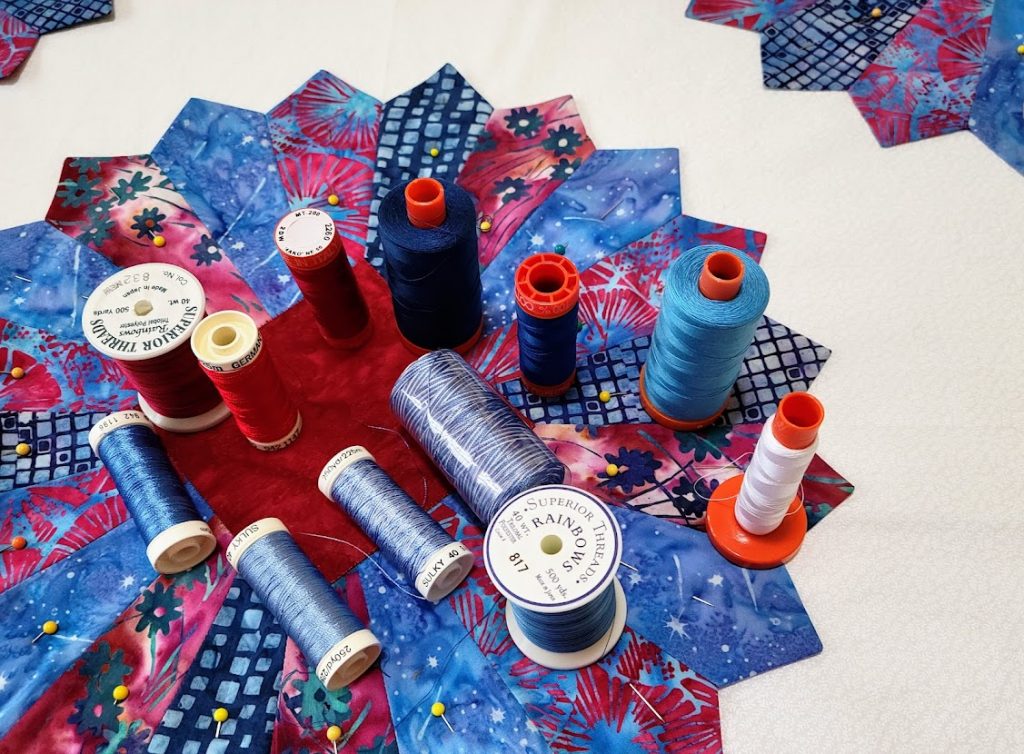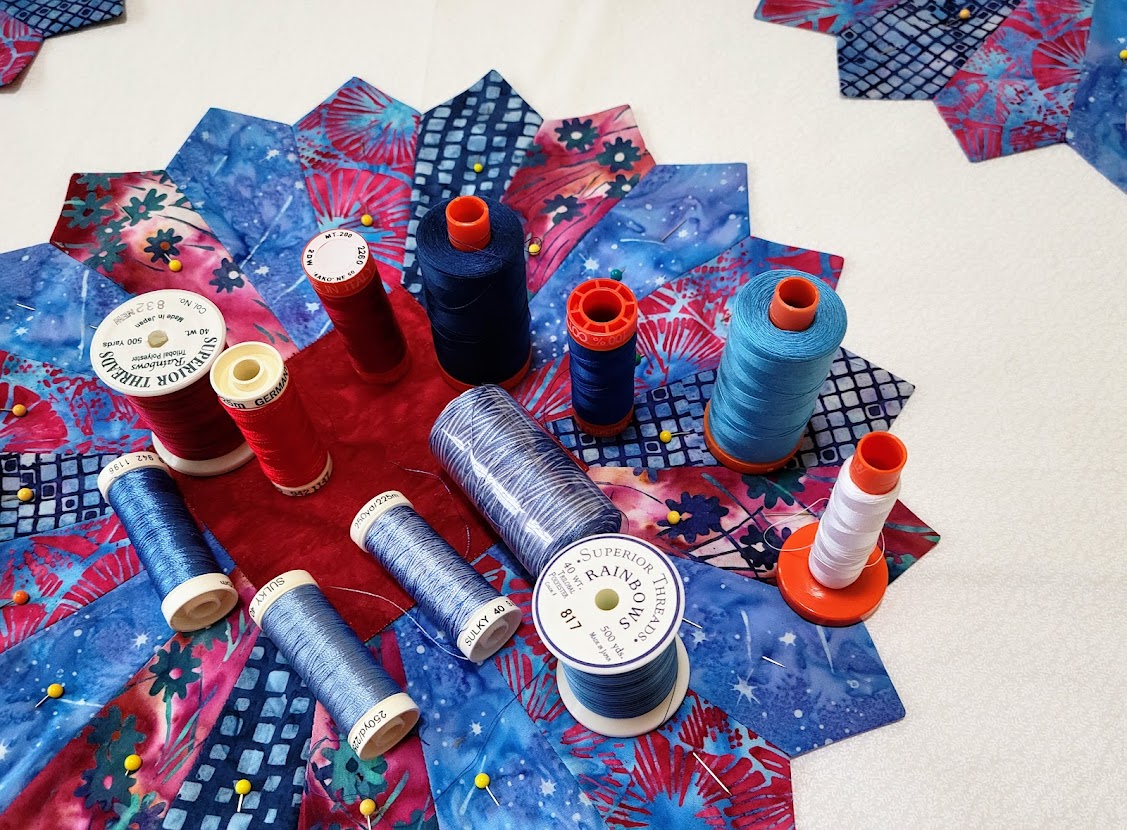 I chose a variegated 40wt. rayon thread (with 60wt. poly in the bobbin) to do featherstitching along each fan blade. This stitching goes through all the layers, so it's appliquéing and quilting in the same step. The featherstitch is a built-in decorative stitch on my machine; but if you don't happen to have this stitch, or don't care for it, you can always choose another option.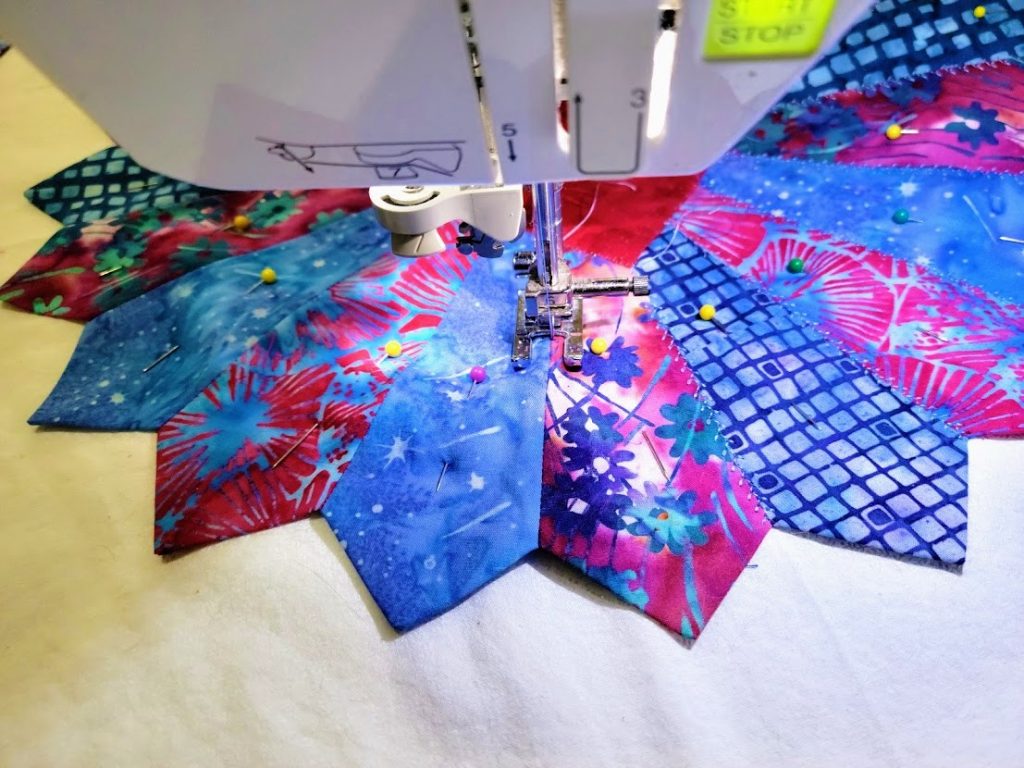 I chose a variegated 40wt. red poly (with 60wt. poly in the bobbin) to stitch over the red centers of the plate and fans. It's a little hard to see in the photo because it blends in so well, but it shows up nicely in person.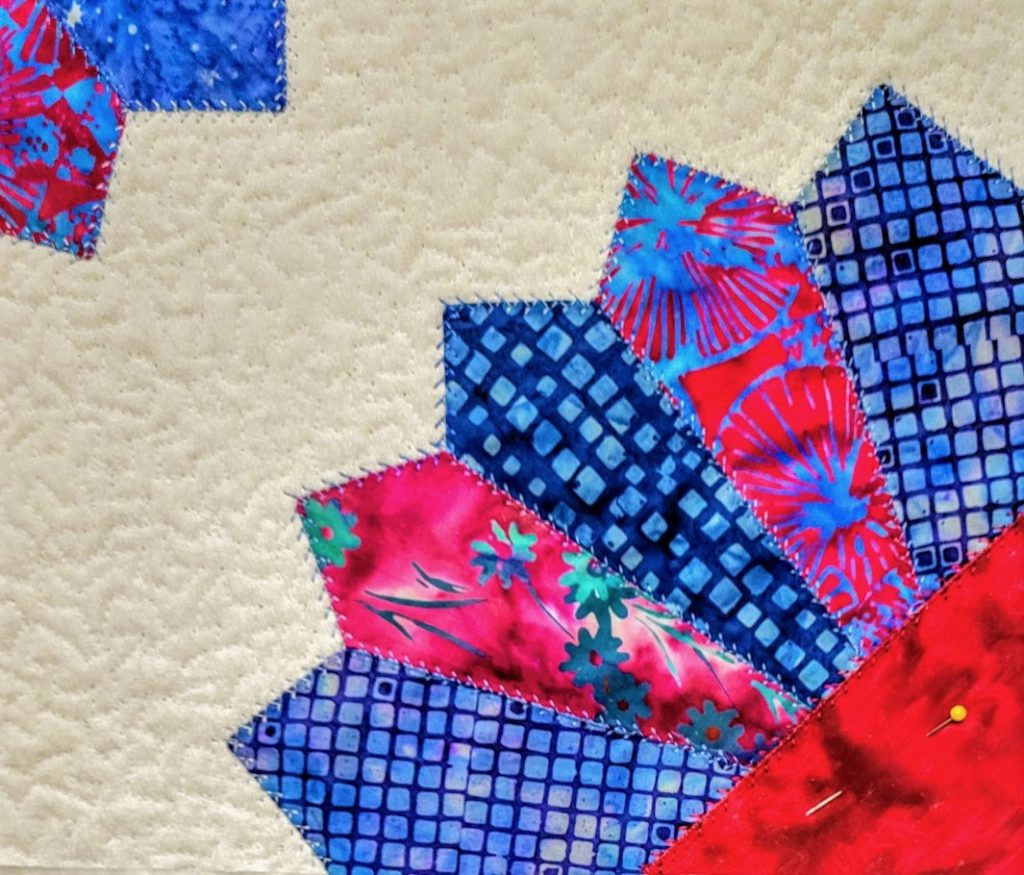 I wanted the background to have some interesting "crackle" texture – but not so eye-catching that it would pull focus from the plate and fans. I opted for Aurifil 50wt. cotton in both the top and bobbin of my machine.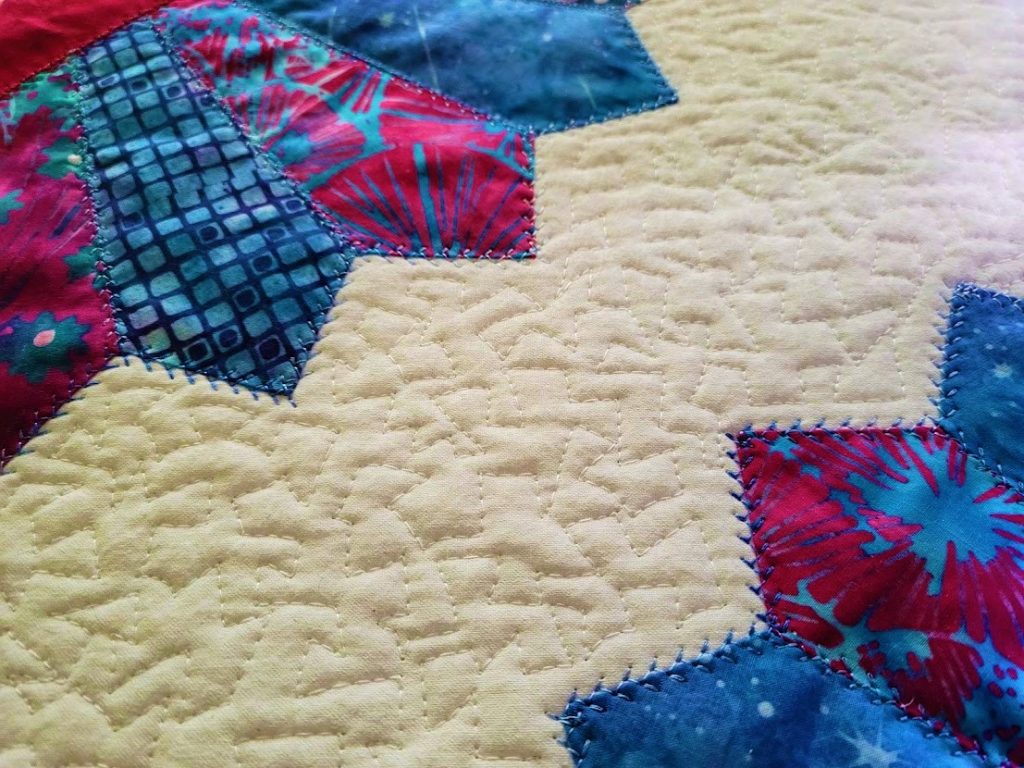 And here's the finished quilt:
Ready to do some experimenting of your own?
This is too big a topic to cover comprehensively in a single blog post, but here are some quick tips from my own experience:
I always think about how the finished quilt or quilted item will be used. If it is something that will be well-used and going through the washer and dryer regularly, then I recommend sticking with thread that you know will be sturdy and colorfast. I most often use 50wt. cotton, but I also like 40wt. cotton (which is heavier) or high quality 40wt. trilobal poly (which is shinier).
I save more delicate threads for items that will be treated gently. For me, this particularly includes rayon (you also need to watch out for color bleeding – not all rayon thread is colorfast) and metallic thread.
Rayon thread adds a subtle glow I really enjoy, but it seems to have more of a tendency to split, fray, or break while you are using it. I'm not throwing any of my rayon thread away, but I am gradually replacing it with 40wt. trilobal poly.
I always consider how much I would like the thread to blend in or stand out. As a rule, finer threads are more likely to blend in and heavier threads to stand out, but color-matching (or contrasting) may override this.
Side-by-side comparison of Bottom Line 60wt. filament poly from Superior Threads, Aurifil 50wt. cotton, and Fantastico 40wt. variegated trilobal poly thread from Superior Threads:

When I'm quilting quite densely, but don't want the surface to look "thready", I may opt for a finer 60wt. cotton or poly thread. I use the same fine thread in both the top and the bobbin of my machine.
If all I want to see is texture, I may choose size .004 monofilament thread for my top thread, with a fine 60wt. poly in the bobbin.
I used clear monofilament thread for the top thread on my clamshell quilt because I knew that I was going to quilt it densely and I didn't want the thread to distract from the overall play of light and color in the quilt.
When using decorative thread, I often use a slightly finer thread in the bobbin than in the top. As I mentioned before, when I use my all-purpose Aurifil 50wt. cotton in the top, I also use it in the bobbin. However, when I use heavier 40wt. cotton or high-quality poly threads, I typically use a finer 60wt. cotton or poly in the bobbin, as I find it helps me get a nicer looking stitch with less pulling of the top thread to the back or the bobbin thread showing on the top of the fabric.
I like to match my needle type and size to my thread. For most quilting, I use a Schmetz Quilting needle, size 75/11. When I'm using a heavier thread, I usually switch to a Topstitch needle, size 80/12. If it is a very heavy thread, such as a 12wt. cotton, I use a Quilting needle, size 90/14. For a very fine thread, I often use a Microtex Sharp, size 70/10.
I used 3 different cotton threads in the close-up below of a different quilt. The orange spools are both 50wt.; I used these to quilt on top of the seams. The larger spool is 12wt.; that's what I used to do the serpentine stitching that is radiating out from the center of the quilt. Check out how much the heavier weight thread stands out!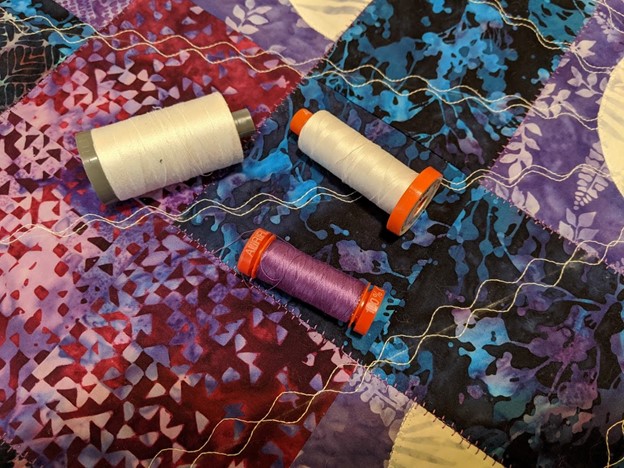 Here is a shot of the whole quilt:
I encourage you to experiment and see what kinds of threads you enjoy the most!
This is a slightly expanded version of my post originally featured on the official Cotton Cuts blog.
Please follow and like us: