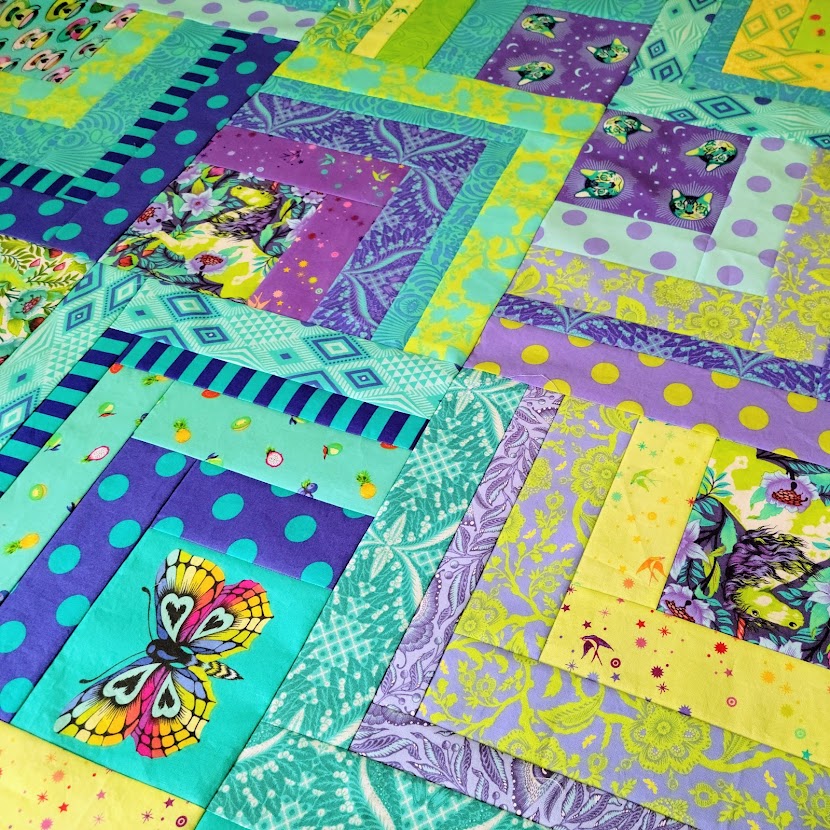 Why would a quilt designer like myself pattern-test another's designer's quilt? Because it's FUN!
AND I'm also firm believer in artists and designers supporting each other. 🙂
Jemima Flendt of Tied with a Ribbon is one of my all-time favorite Australian quilt designers. I love her fresh, modern take on traditional – and sometimes non-traditional – quilt patterns. So when she sent out a call for testers for her Log Cabin Toss Quilt, I was immediately on board.
The pattern comes in 3 sizes: Baby, Lap, and Queen; and is a perfect way to feature a focus fabric and supporting prints – or to go completely scrappy.
I chose to make the scrappy version in the Lap size.
Here are the fabrics I started with: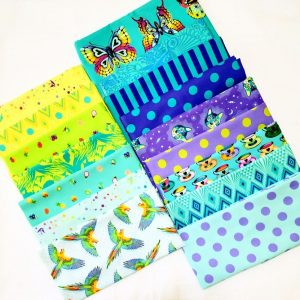 I had pieces of varying sizes of an assortment of Tula Pink fabrics; as I worked on the blocks, I was able to use up lots more of my Tula Pink scraps – anything that was at least 2 1/2″ wide.
I chose to fussy-cut the large square for each block and showcase unicorns, cats, moths/butterflies, and teacups.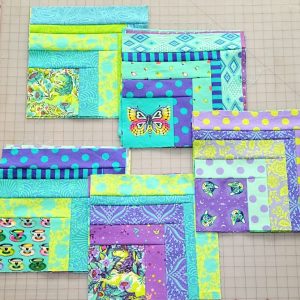 I had a lot of fun!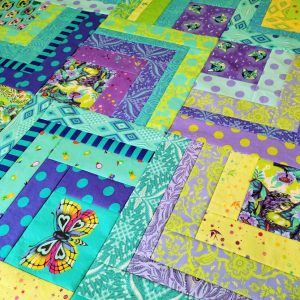 Due to the size of the quilt (and the limited time I had available), I enlisted the help of my friend and colleague Terri Watson of Threadtales Quiltworks for the machine quilting.
I'm delighted with the way it turned out!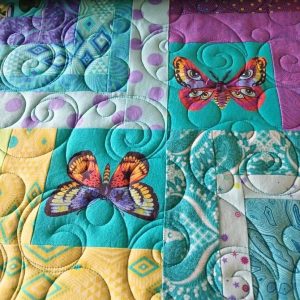 I finished it off with a striped binding (also fabric by Tula Pink).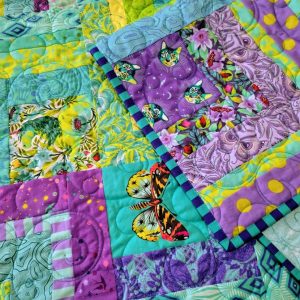 And here is my husband John holding up my finished quilt: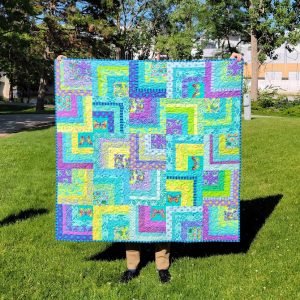 If you're on Instagram, be sure to check out #logcabintossquilt for eyecandy and inspiration.
And don't hesitate to pick up a copy of the pattern for yourself!
Note to my USA friends: the price is listed in Australian dollars – the cost will be less in US dollars.
Please follow and like us: