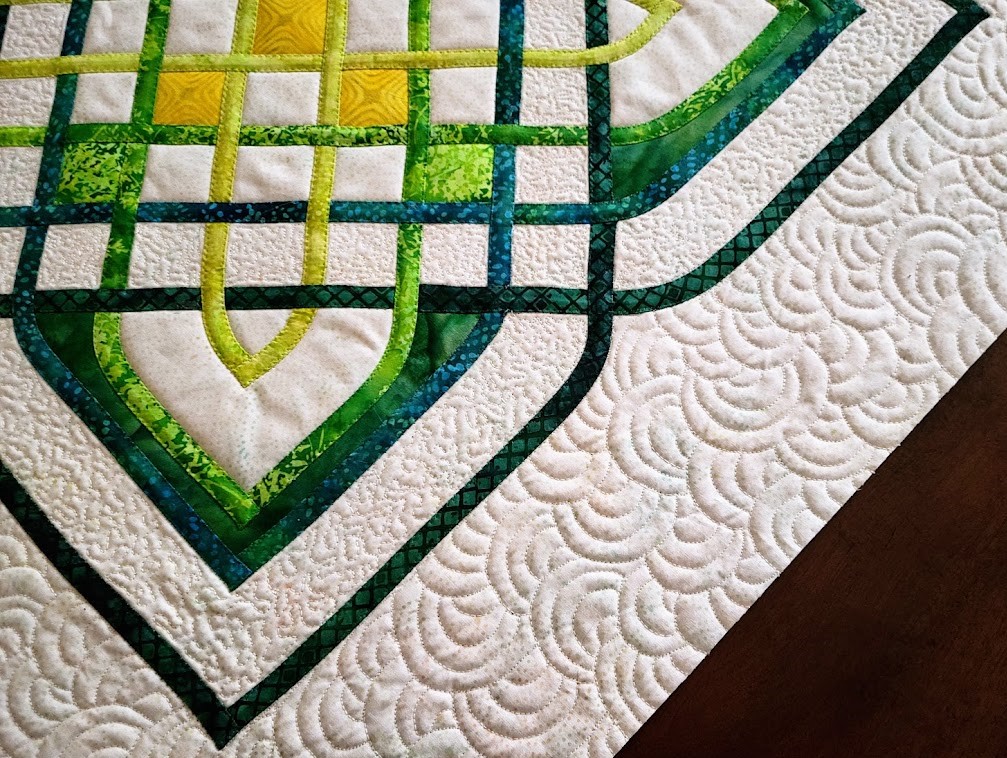 "New beginnings are often disguised as painful endings." This quote, usually attributed to Lao Tzu, but perhaps written by someone else entirely, nonetheless speaks to me – especially given what is happening in my life right now.
Journal Quilt – Tree of Life.
Journal Quilting is one of the ways I process my life experiences and share my journey with others.
© Beth Ann Williams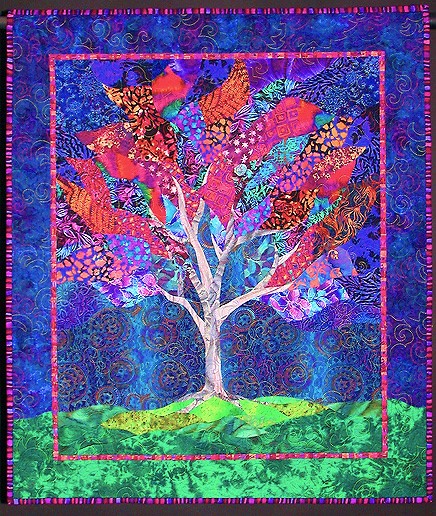 The Covid-19 pandemic has pushed the whole world into new territory, and I am no exception. It has been scary and difficult, but it has also offered me new opportunities.
I started my career as a fiber artist, then author and instructor offering lectures, trunk shows, and workshops first here in Michigan, and eventually all over the country. I had three books published by Martingale & Co. in just four years: Celtic Quilts: A New Look for Ancient Designs, Colorwash Bargello Quilts, and World of Quilts.
The Island, pattern included in the book Celtic Quilts: A New Looks for Ancient Designs.
© Beth Ann Williams, 2000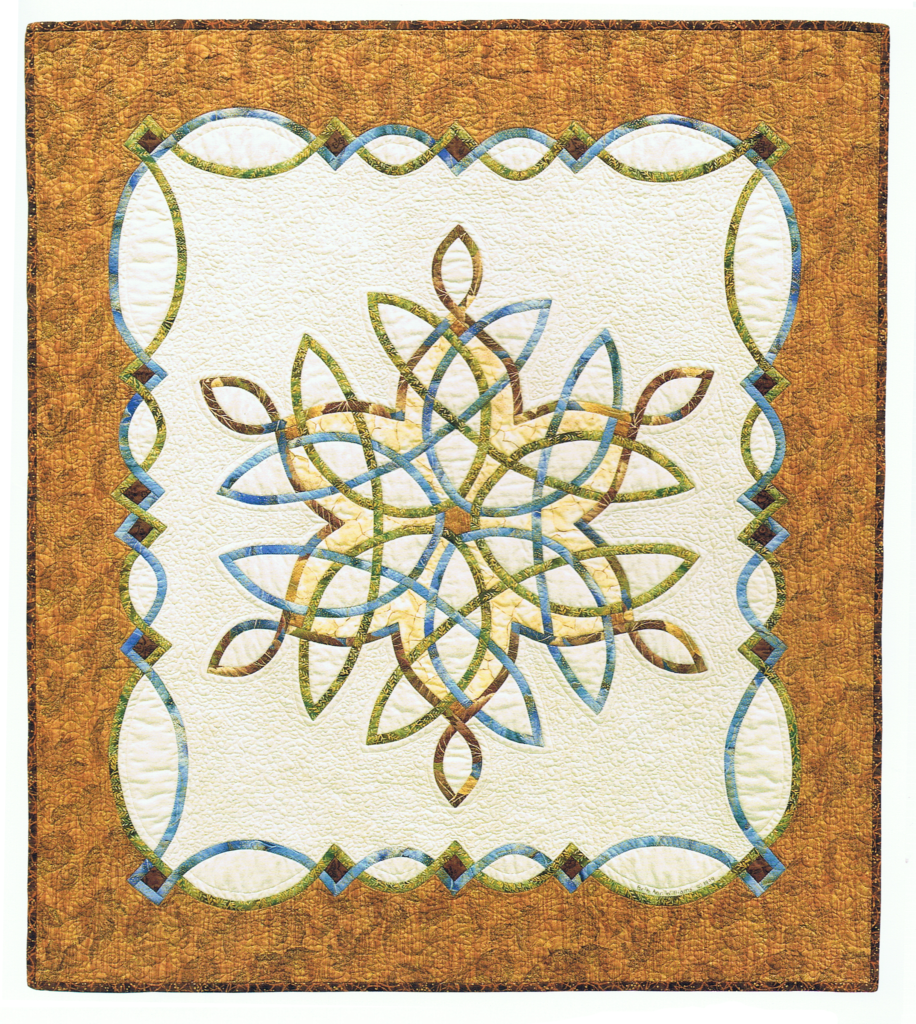 But by 2006, autoimmune disease forced my family and me to make some changes; I needed to look for a way to make a living that would allow me to come off the road. I began teaching at Lakeshore Sewing, and when Brian (the owner) asked me what it would take to get me full-time, I came up with a proposal. I have been Creative Director for Lakeshore Sewing since the end of 2006.
Because so many of my responsibilities were administrative and behind-the-scenes, Brian allowed me to work mainly from my home office, which was exactly what I needed to help manage my chronic illness. I was only in the store for meetings, planning/hosting events, and teaching in the classroom. While I have enjoyed many wonderful longstanding relationships with many of Lakeshore family and friends, the downside of the arrangement was that my time, energy, and creativity were almost completely taken up by Lakeshore Sewing. I had very little time to create anything new purely for myself.
Close-up of my "Shimmer" Clamshell quilt, one of the few quilts I designed, made, and quilted start-to-finish in 2019. It helps that though it is very detailed, it's also very small!
© Beth Ann Williams, 2019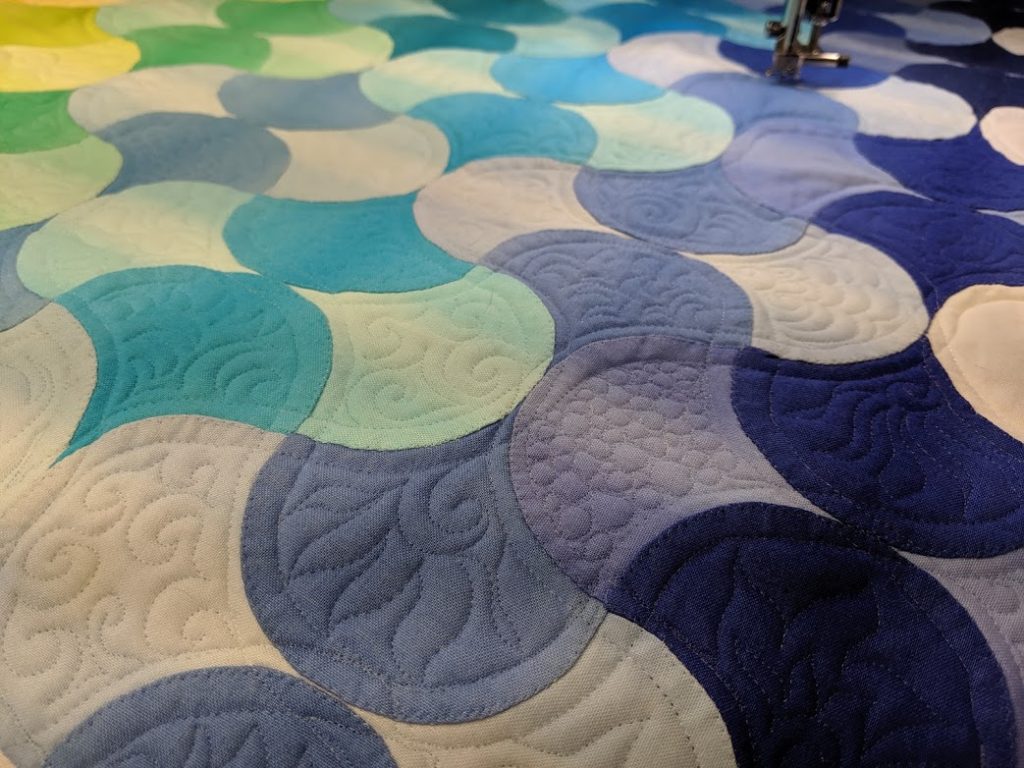 When the pandemic hit in 2020, in-person meetings, classes, and events came to a halt. Since I am immunocompromised and my doctor warned me repeatedly that my chances of good outcome with Covid were slim, I've been more or less quarantined at home ever since. This has been difficult for me and my whole family, who have also been forced to take extraordinary precautions to try to avoid bringing illness home.
The unexpected blessing was that for the first time since I started at Lakeshore, I had time to sew and quilt. (Even going into the store once or twice a week would lay me out for several days afterward.) Sometimes I designed original pieces from scratch, and other times I started with patterns from designers I admire. I rediscovered the joy and solace of creation.
Four of my favorite quilts based on patterns from other designers: the Rough Cut Diamonds Quilt by Bre T DesignsThe Flabellum Quilt Pattern by Alex Hoffmann of HoffMama Company, the Nightingale Quilt by Lo & Behold Stitchery, and the Confetti Quilt from Tied with a Ribbon.
Since these quilts are just large enough that the bulk is physically difficult for me to manage now, they were beautifully quilted by my friend Terri Watson of Threadtale Quiltworks.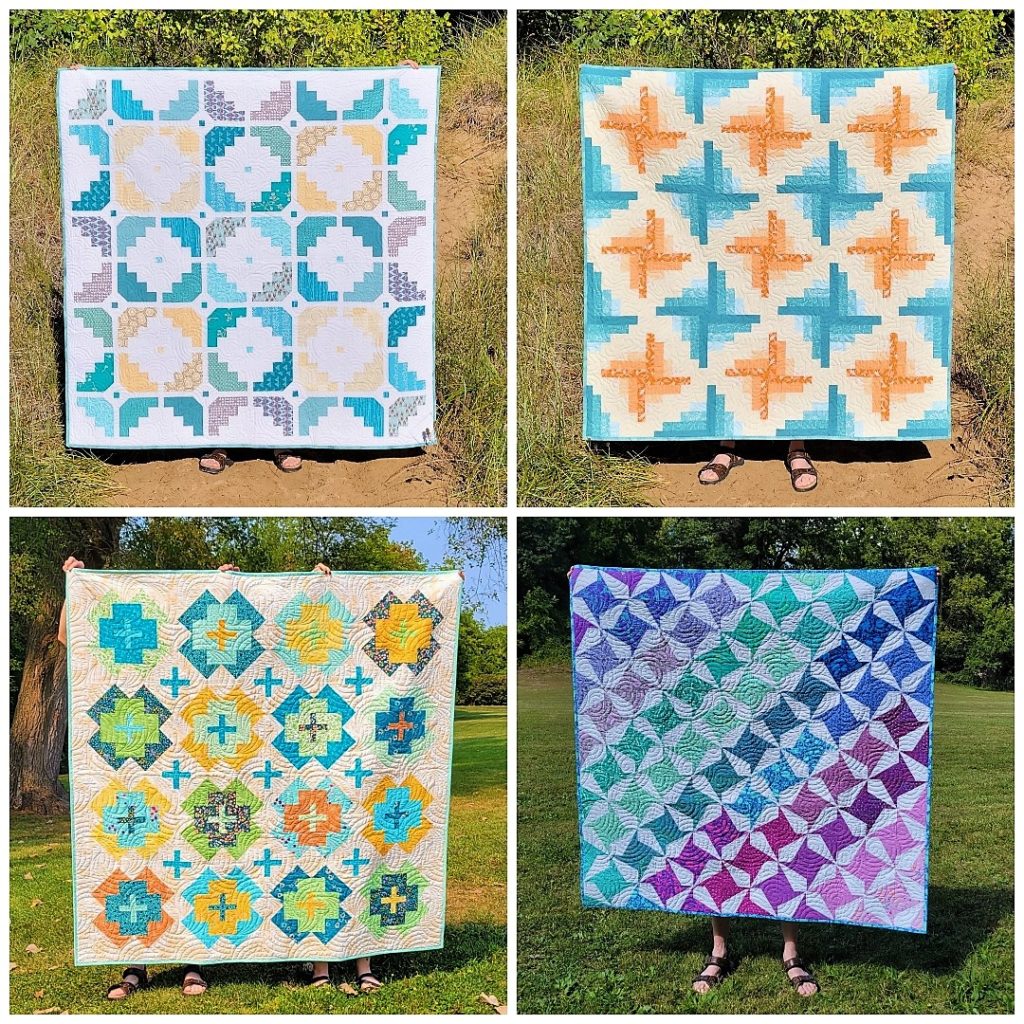 Now, the pandemic restrictions have been lifted, and life for many has returned more or less to "normal". But, for those of us who are most at risk, there is no going back just yet. It is simply too risky. When it became apparent that I was needed physically back in the store, I felt I had no choice but to step away. My time as Creative Director of Lakeshore Sewing will conclude at the end of April 2022.
At first, this was terrifying, an abrupt ending that I had not seen coming.
However, once I got over the shock, distress, and fear of the unknown, I've become more and more excited about the opportunity to return to my first loves – creating, designing, and sharing my love of quilting and fiber art.
As I was thinking about what I would like to work on (as opposed to what might be needed for an upcoming class sample), I remembered the stack of portfolios full of drawings and sketches that have been sitting in my basement for years. I pulled out one of those sketches and began playing.
I chose a Celtic-style design as my starting point, keeping the traditional conventions:
All lines are continuous, having neither beginning nor end.
All lines cross each other in an alternating under-over-under pattern.
No more than two lines cross at any given point.
I also decided to play with the positive/negative space and interpret the design in an unconventional way.
Starting out – I used Java Batik fabric from Cotton Cuts to sew the bias tubes and insets I used for the appliqué.
Celtic quilt © Beth Ann Williams, 2022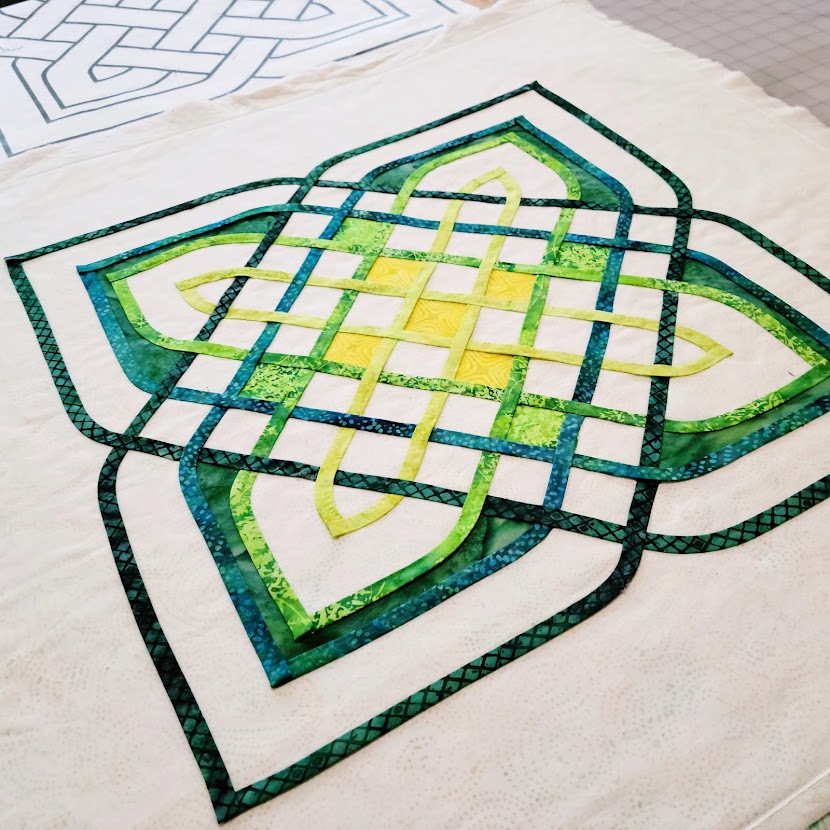 Here's what the design looked like after I sewed everything down, but before I started free-motion quilting.
Celtic quilt © Beth Ann Williams, 2022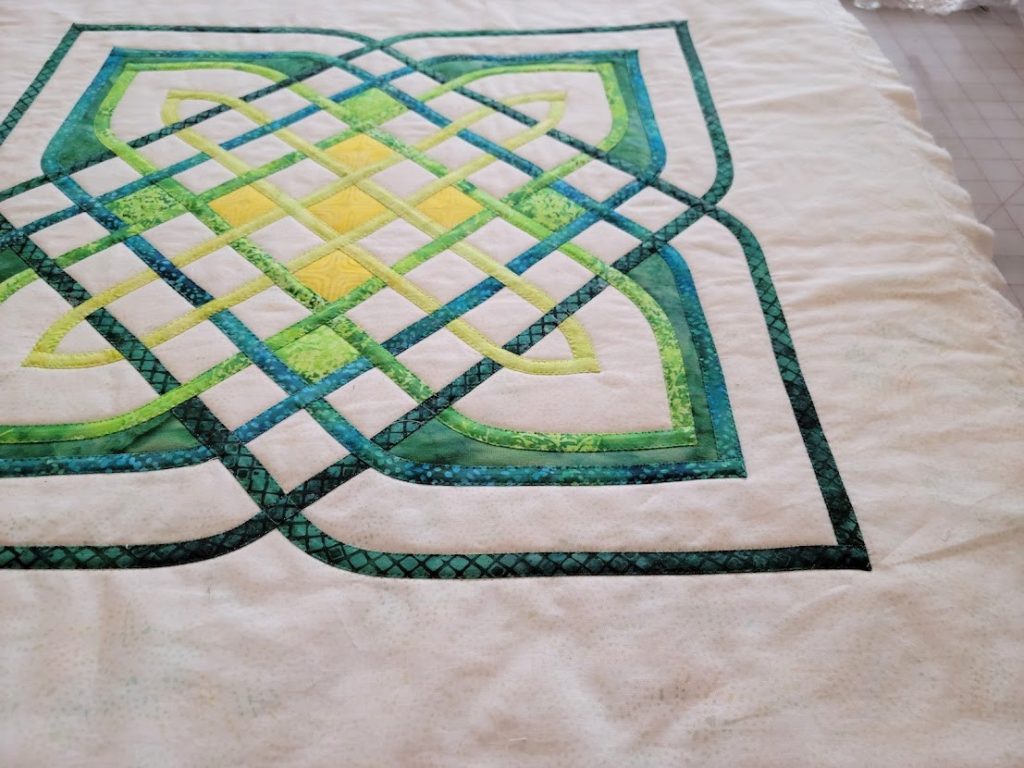 A close-up view of my free-motion quilting – I like lots of texture!
Celtic quilt © Beth Ann Williams, 2022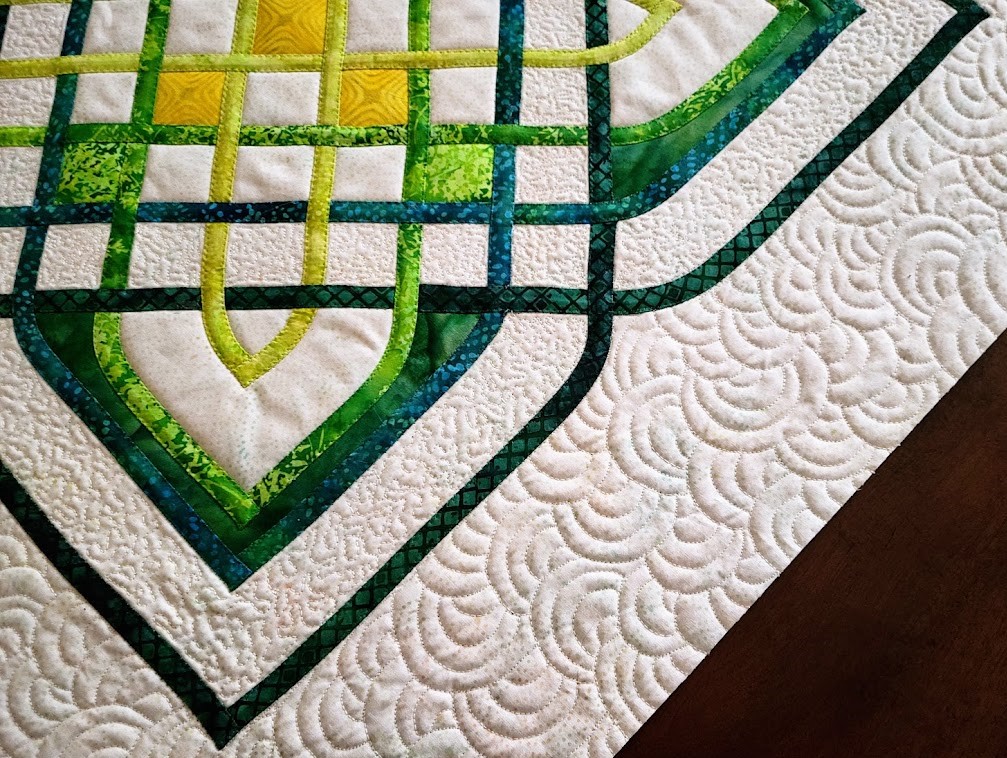 The finished piece – now I just need to bind the outer edges.
Celtic quilt © Beth Ann Williams, 2022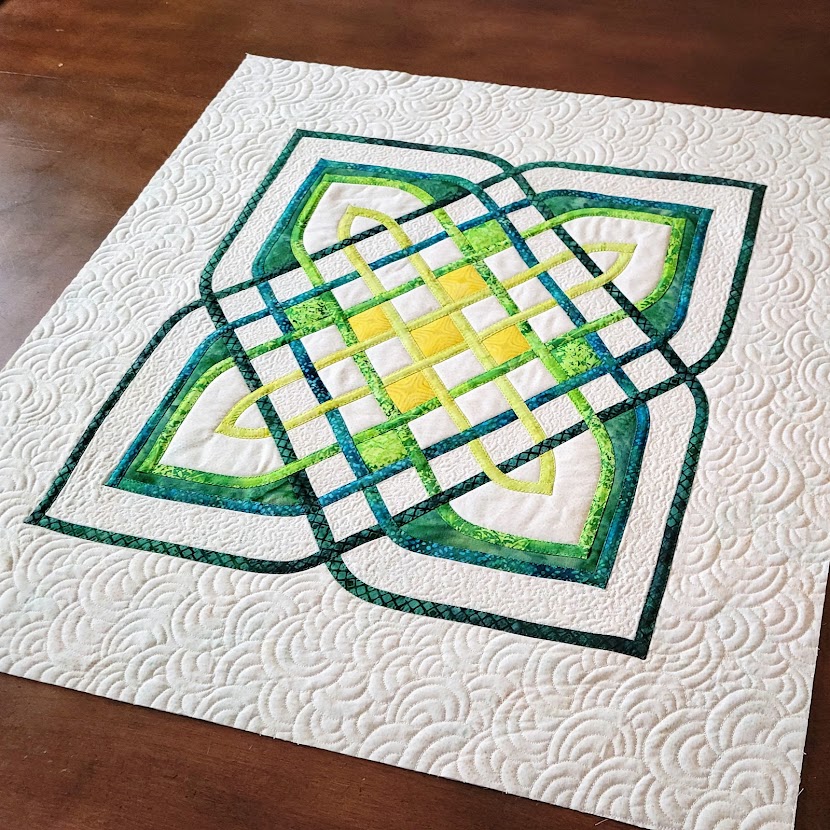 This was such a joy for me to work on! It was a great meditation and reminder for me that this transition in my life is more than an interruption. It encompasses an ending and beginning that is part of a unified whole. I look forward to continuing my journey as a quilter and as a designer.
And for those of you who are interested in taking more classes with me – stay tuned! I'm planning on offering a selection of both new and returning Zoom classes directly through this website in the coming months.
If you are interested, you can sign up here to be among the first to be notified of new classes and tutorials, free content, and other updates.
Thank you! 🙂
Please follow and like us: