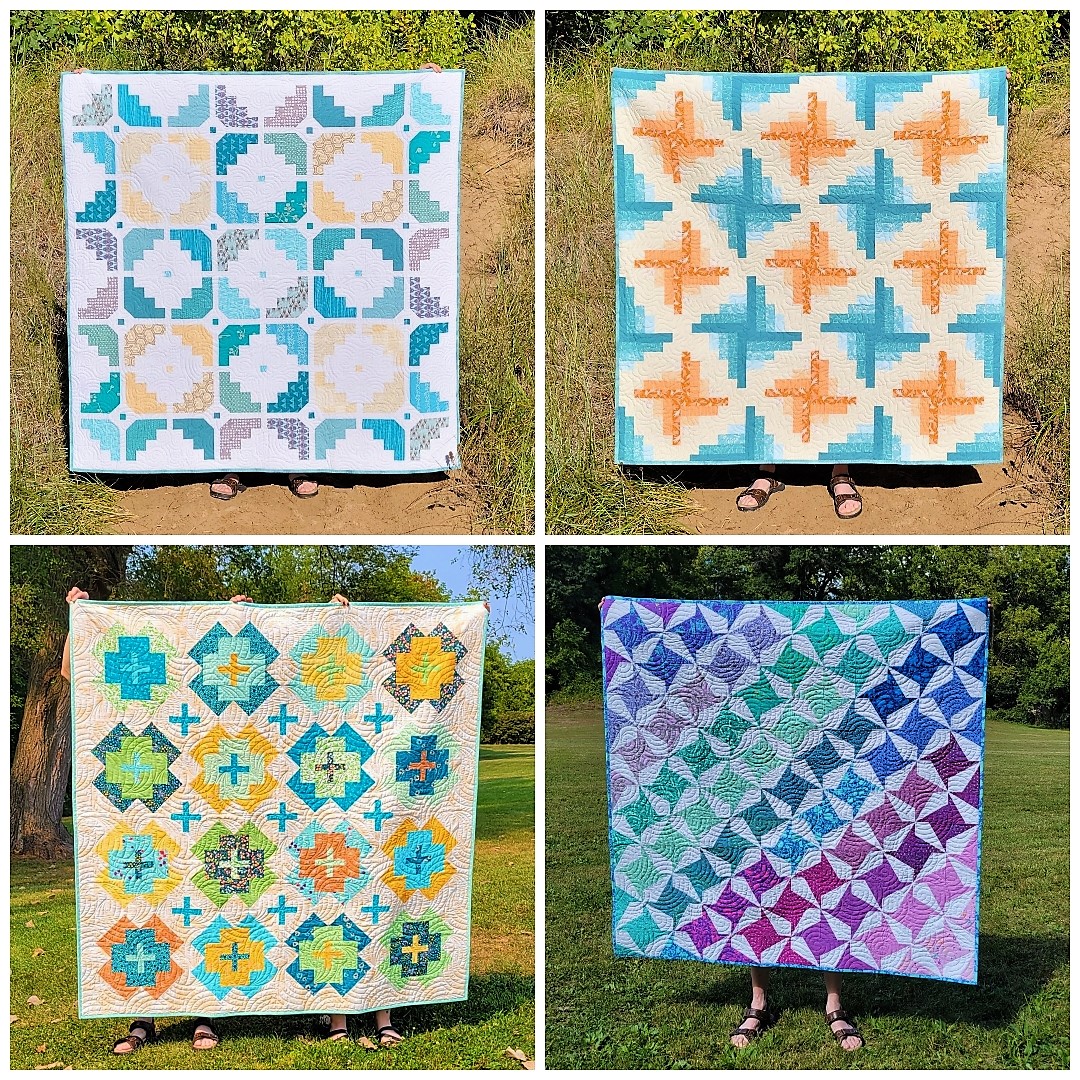 Since I like to work on multiple projects at a time, I occasionally experience a bottleneck of quilts that are all at the same stage. Such has been the case this month, when I ended up sewing bindings on 8 different quilts in a little over a week. Wow! My arms are ready for a break, but it's so much fun to see each quilt finally completed. And it has given me chance to reflect on my favorite patterns of the summer.
But before I go any further, I'd like to elaborate on what I look for when I buy a commercial pattern rather than designing a quilt myself (which I also like to do).
What I Look for When I Buy a Pattern:
(listed in no particular order, recognizing that no pattern ticks ALL of the boxes – which is just fine!)
–A design that I haven't seen before, or an clever twist on an old favorite
–A technique I haven't tried before or don't use very often
–Multiple size options (this isn't a deal breaker if it's only one size – as long as I feel confident that I can change the size if I wish to do so)
–Well-written (and tested) instructions with clear diagrams, cutting charts, and (bonus points) coloring sheets
–An opportunity to use a favorite fabric or collection of fabrics I've been saving for "just the right project"
And the most important factor:
–A pattern that inspires me with lots of "what ifs" as in "what if I add this" or "what if I change that" – leading to lots of fun variations on the original design
Pet peeves:
–Poorly written, edited, or illustrated patterns
–Fabric requirements based on 44″ of usable fabric width (Not all quilting cotton is that wide right off the bolt, and the selvages may reduce the usable width even more – not to mention the shrinkage that may occur with prewashing.)
–Assembly that requires all seams to be pressed open. (This is a personal preference – I don't mind pressing some seams open, but I appreciate "nesting" seams as much as possible.)
And here are my favorite patterns of summer 2021:
The Flabellum Quilt Pattern by Alex Hoffmann of HoffMama Company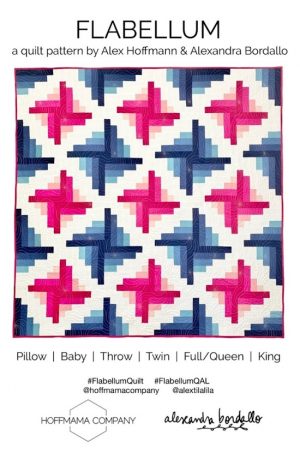 Why I love it: it's fast, fun & easy to make, a great pattern for showcasing gradations of color and/or value, with lots of size options.
My version: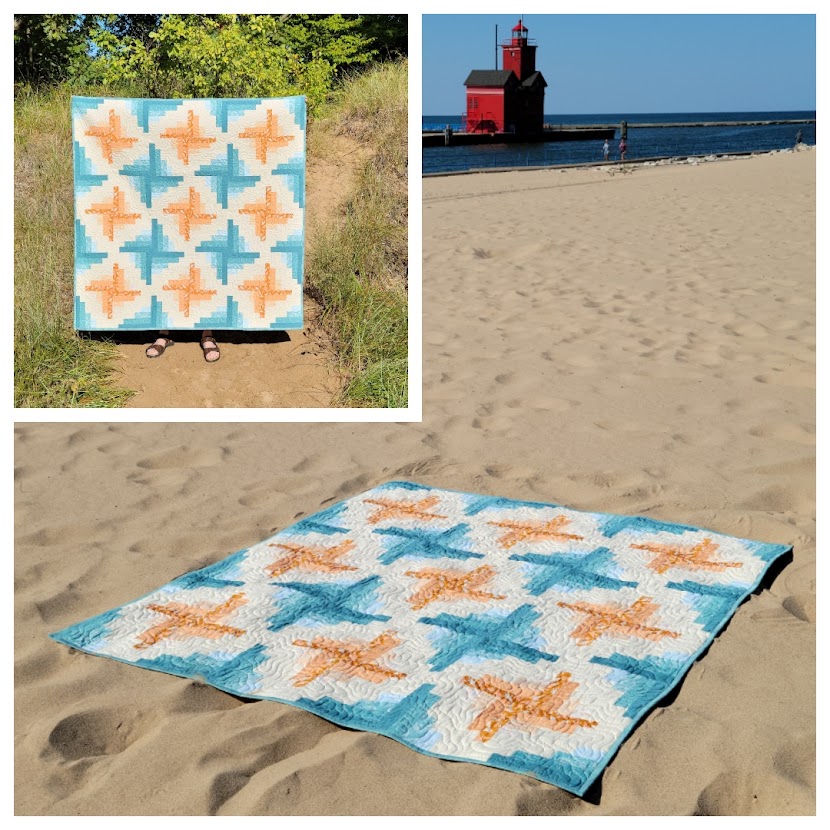 And next, the Nightingale Quilt by Lo & Behold Stitchery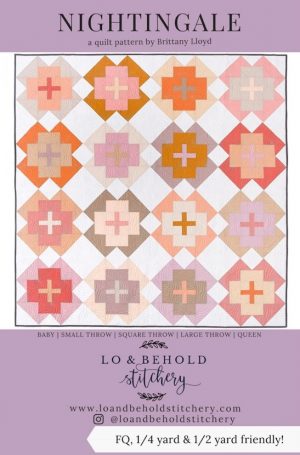 Why I love it: Brittany provides clear instructions (always), multiple sizes, and creative options. Inspired by memories of summertime at my grandparents' farm, I had great fun pulling together a wide selection of fat quarters for this quilt. I also played the "what if" game – adding sashing and crosses between the blocks and a border to "float" everything on the background fabric.
My version: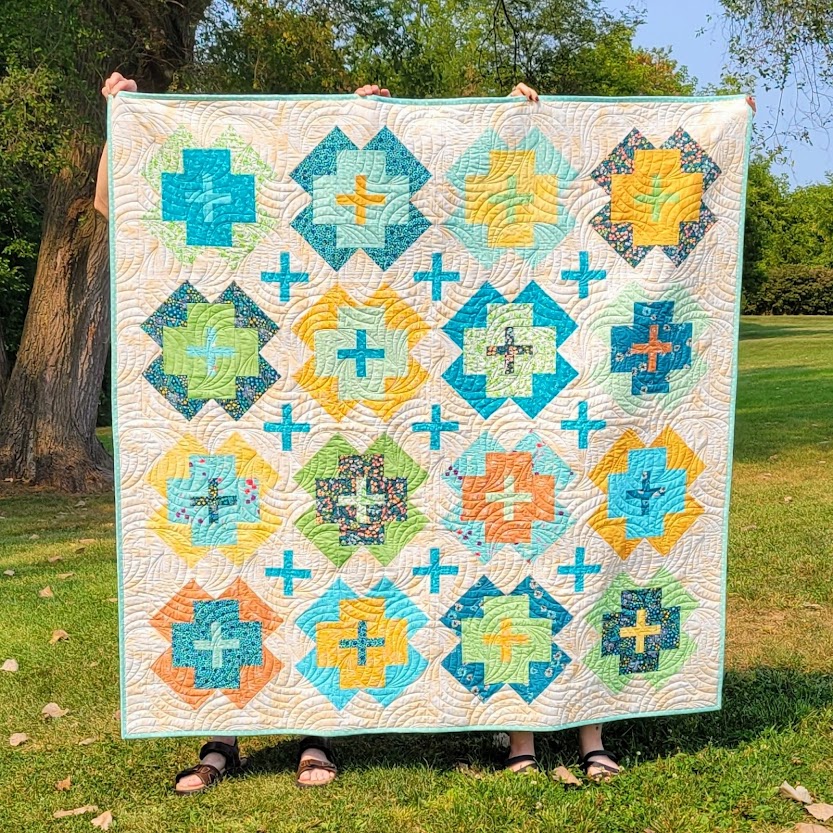 Thirdly, the Rough Cut Diamonds Quilt by Bre T Designs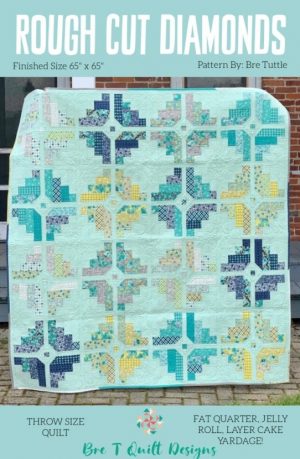 Why I love it: this is another great design that comes together pretty quickly, and lends itself to lots of interpretations (check out the hashtag on Instagram!) I added sashing and cornerstones between the blocks, and changed up the the color placement to create a secondary pattern and a new look.
My version: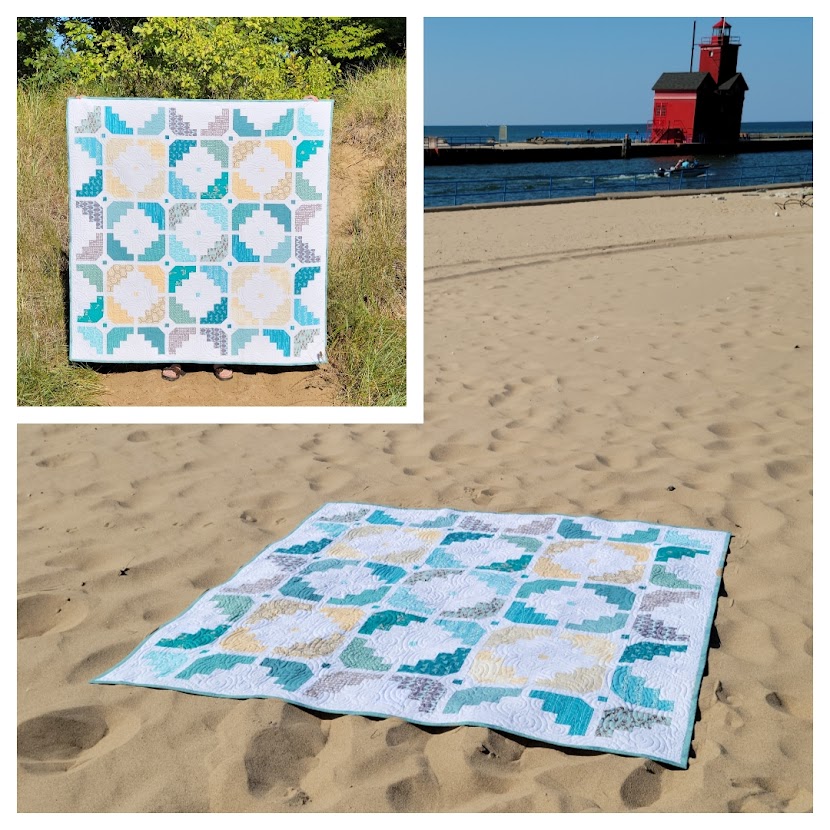 And finally, the Confetti Quilt from Tied with a Ribbon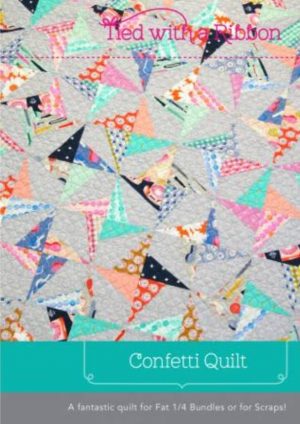 Why I love it: this one snuck up on me. I originally purchased the pattern because it featured shapes I hadn't worked with much before; I had no idea what a treat was in store for me! However, once I started making the blocks (which are SUPER FAST & EASY to make with Jemima's method), I was fascinated by all of the different design possibilities. I've already made 4 different versions, and I feel like I'm still just scratching the surface.
My versions:
Confetti Quilt #1 (made with Tula Pink fabrics) – I carefully planned the fabric placement to create an ombre effect. This is the only version I made that is sized as written in the pattern.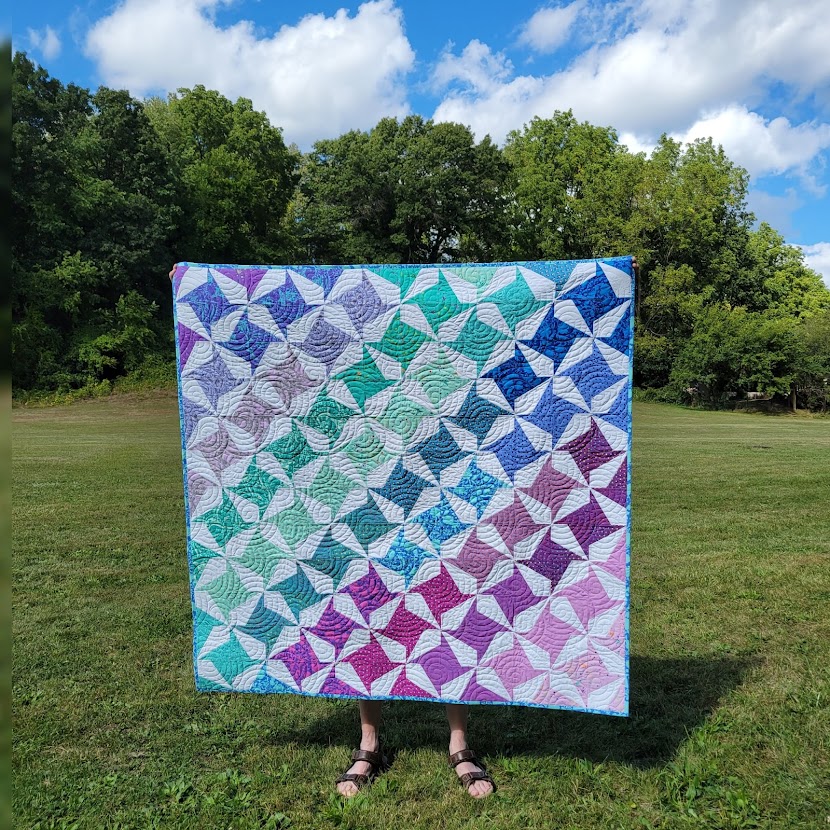 Confetti Quilt #2 – (batik fabrics) – I reduced the size of the squares by an inch and resized the pattern to make an ombre table runner.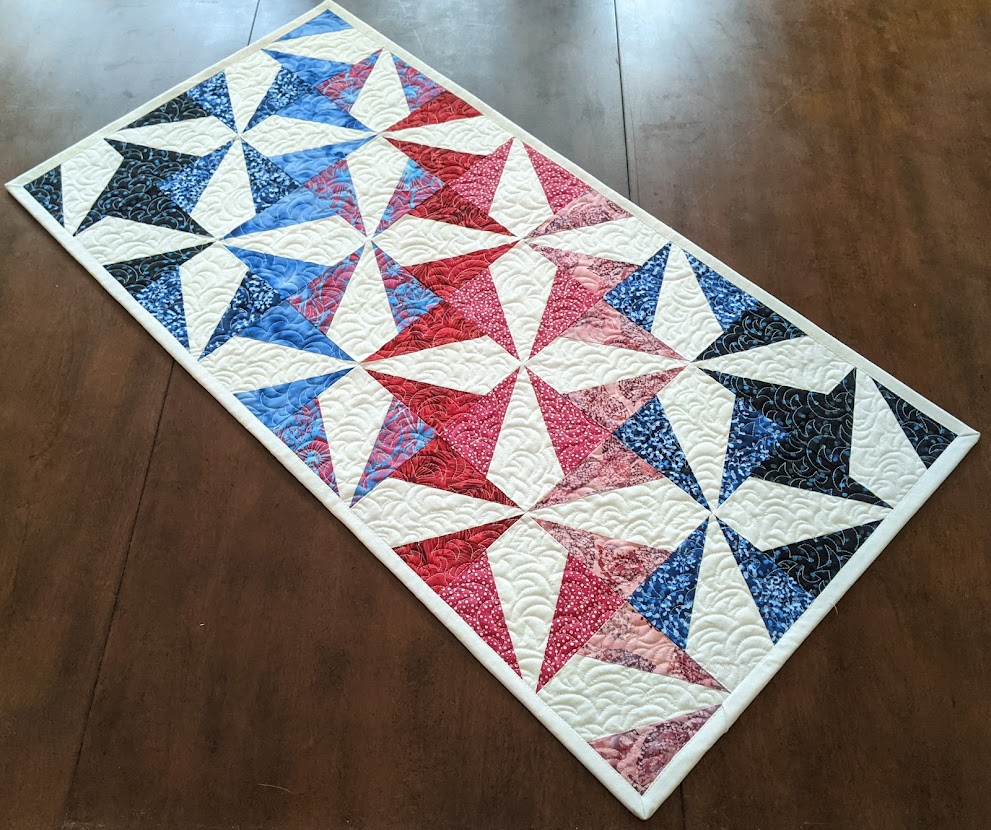 Confetti Quilt #3 – (batik fabrics) – I kept it scrappy (like the pattern), but rotated the blocks to create a fun new design.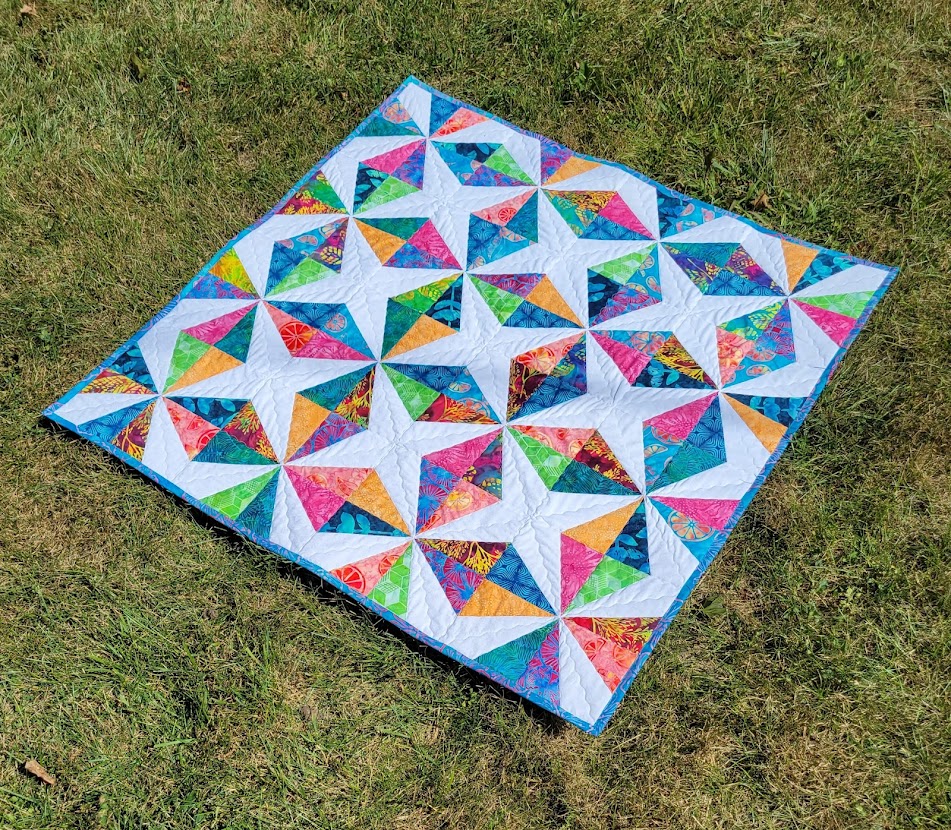 Confetti Quilt #4 – (batik fabrics) – I was inspired by the iridescent shimmer of soap bubbles in the sunlight when I laid out my fabrics for this quilt to create another ombre effect. I also resized the pattern to make a baby quilt.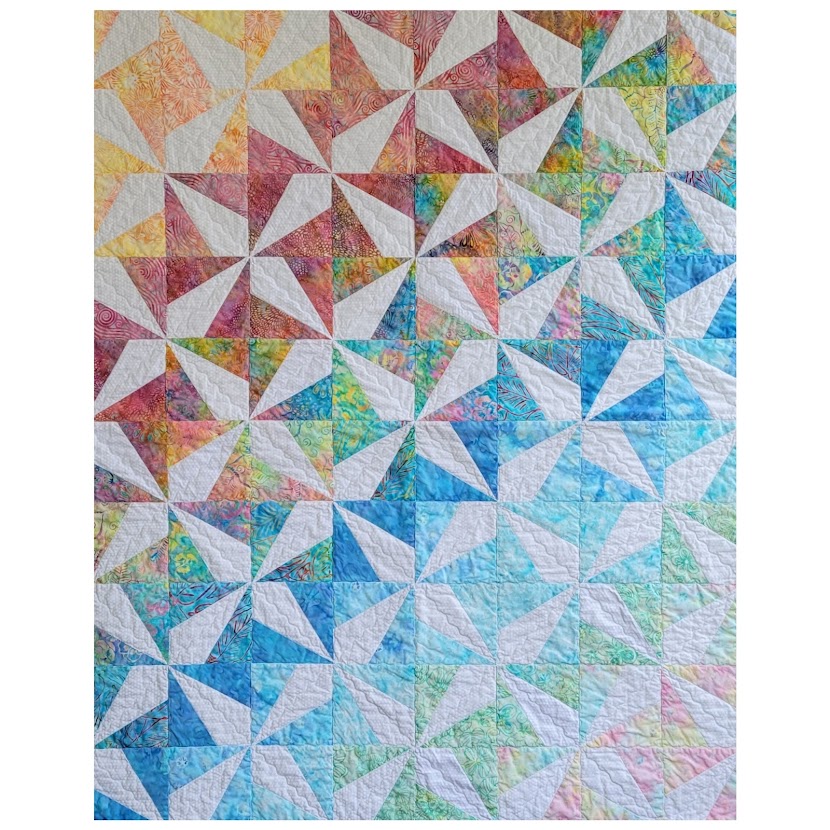 And that's it!
If you are interested in making a Confetti Quilt of your own, I'm offering a 3 week evening Zoom class that starts on Oct. 7, 2021. I'd love to have you join me!
Before I go – I want to give a shoutout to Terri of Threadtales Quiltworks, who always listens carefully to the feeling I'm going for with each quilt, understands & makes really useful suggestions, and quilts them so beautifully. I usually quilt most of my quilts myself (I quilted the last 3 Confetti quilts), but the larger quilts have become challenging for me to handle physically – so being able to hand them off to someone I trust and admire has been a lifeline. Thank you, Terri!
Please follow and like us: