Sadly, the repairs, unpacking, and setting up again of my basement studio has yet to be finished, which has really been cramping my creative style…
However, Spoonflower is having a fantastic half price sale on fat quarters (all fat quarters – not just mine!) now through midnight on Nov. 8, 2018 – which also reminded me that this might be a good time to reflect on how I got started working with Spoonflower.
Some background information…
Way back when my books with Martingale & Co. started coming out (early 2000s), I was approached at the International Quilt Market (the big industry-wide trade show in Houston, TX, immediately preceding the International Quilt Festival) by a couple of different fabric companies about having my own line(s) of fabric. Initially, I was thrilled! But when I did some checking around and talked to other authors about their experiences working with these or similar companies, my balloon deflated in a hurry. The companies who had contacted me seemed to fall into one of two camps: (1) they wanted to use a "celebrity" name to sell the fabric, but the "celebrity designer" had very little actual input on the designs, if at all; or (2) the "celebrity" was allowed more input, but the form that took most often was receiving a packet of samples in the mail and having very tight windows (sometimes as little as 24 hours) to make any decisions/comments/suggestions and mail the packet back again.
Please note – this was at least 15 years ago, and most likely did not represent the fabric industry as a whole, just those particular companies. I have no idea what the process is like now for current authors/designers. 🙂
Neither of those options appealed to me at all. But the seed of interest had been planted.
A number of years later, a friend asked me if I was familiar with a new company called Spoonflower. I did some investigating, and was delighted to find a fantastic site for independent designers to create, showcase, and sell their work.
After a near-catastrophic neurological event in 2009 and series of surgical interventions in 2010 created radical new physical limitations and challenges, I had to expand my ideas about what living a creative life meant to me and devise new ways of expressing myself. (Creativity has always been the best emotional therapy for me, too!)
I first set up my online Spoonflower studio in 2011. I found the entire process absorbing, rewarding, and sometimes frustrating, too. At that time, I wasn't completely happy with how washed out or muddy many of my designs looked when digitally printed on the basic cotton.
Over the next few years, two things happened: (1) I learned how to adjust my digital files in order to improve my results and (2) Spoonflower seemed to continually improve their digital printing technology – offering better inks, clearer images, higher quality textiles and a much wider range of base fabrics.
I most often buy the Kona Cotton Ultra for quilting, bags & totes, although the Organic Cotton Sateen has a beautiful sheen and smooth hand I really enjoy. The Poly Crepe de Chine makes BEAUTIFUL scarves. I have been super happy with the Silky Faille and Perfomance Pique, too.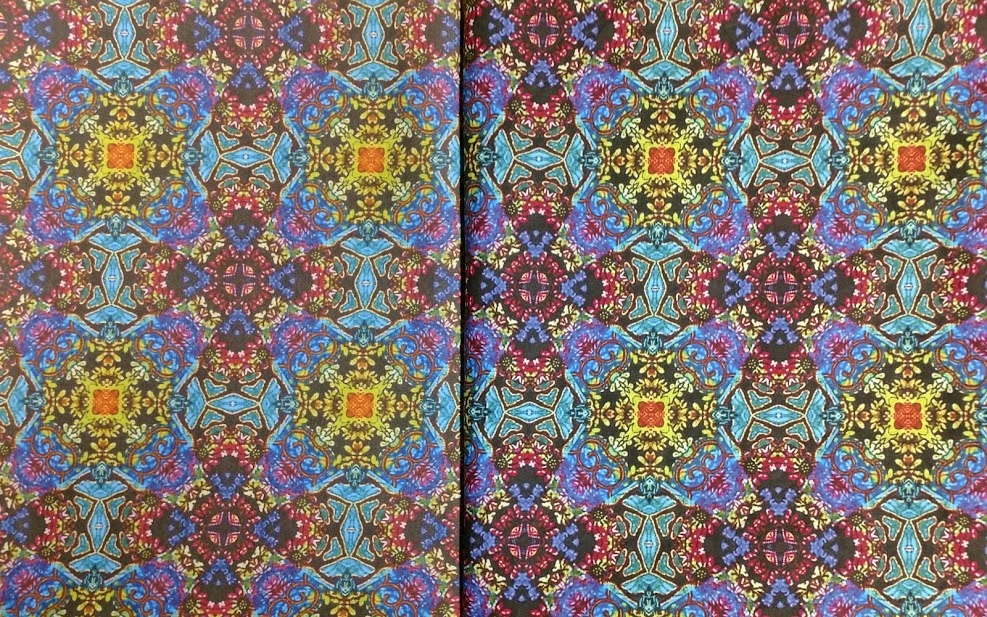 I decided earlier this year that one of my goals for 2018 was to work diligently on developing distinct fabric collections. I also determined to spend more time thinking about/showing how these distinctive textiles might be used.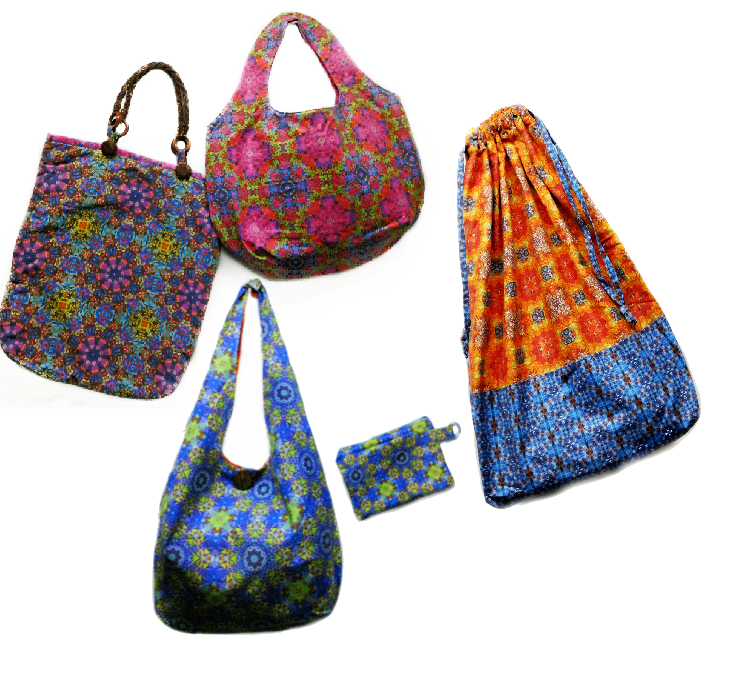 You can read more about Spoonflower's eco-friendly production system here.
Here's how the process works on my end:
I upload a finished digital file of my artwork (I'll talk more about that another time)
I order sample swatches to make sure I am happy with how the designs look.

Sample swatches from my Around the World and Back Again collection

I use tags to make it easier for potential customers to find my designs – even if they aren't starting from my shop page (if you ever want to find my designs and you aren't already in my shop, one of the easiest ways is to put bethannwilliams in the search box.) 🙂
Anyone can order the designs I've listed for sale (as opposed to designs locked because they are still in development).
You select the design, select the fabric you want the design printed on, and whether you want a swatch, fat quarter, or yardage.

Base fabric choices and pricing at Spoonflower.com as of November 2018

Secure payment is through credit card or paypal through Spoonflower – I don't handle any money!
Spoonflower prints on demand and ships the order worldwide.
I get a small commission when any of my designs are used on fabric, wallpaper or gift wrap through Spoonflower.com or on home decor items such as bedding, decorative pillows, curtains, tablecloths, runners, placemats., etc. at Roostery.com (put bethannwilliams in the search box to find me).
If you follow me on Instagram (I'm listed as bethann.williams), you'll see that I've posted many of my designs there, often along with notes about the inspiration behind the original artwork.
It's a lot of work, but I'm truly enjoying the creative challenge, and am excited about working with my own custom textiles.
Thank you for letting me share them with you, too! 🙂
Please follow and like us: