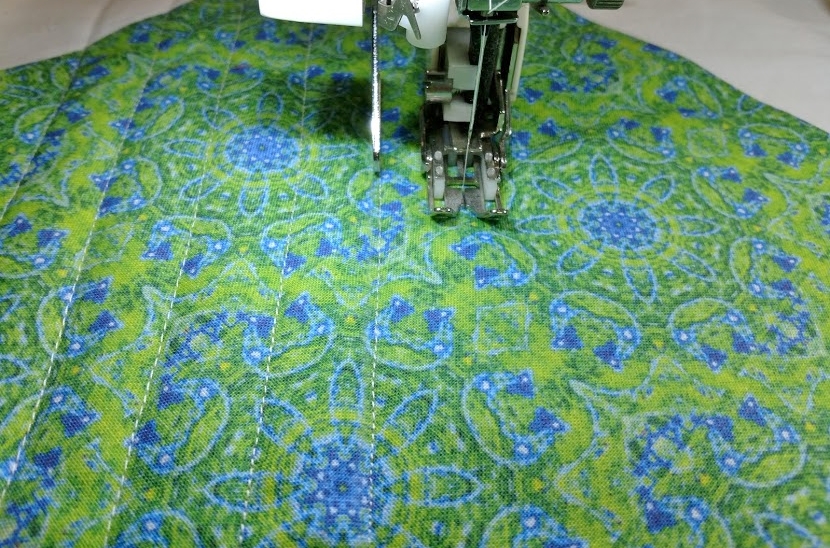 I was perplexed when I realized that the Baby Lock Jazz, which is marketed as a quilting and sewing machine, doesn't come with a walking foot among the 9 included presser feet. It seems like a counter-intuitive omission. Not that big a deal for me, since I already have a deluxe Baby Lock low-shank walking foot for another machine that will also fit the Jazz, but definitely a first add-on purchase if you don't have one on hand.
I truly enjoy free-motion machine quilting, so I tend not to do a lot of straight-line work. But I was intrigued with the number of quilts – particularly in the Modern Quilt exhibit – in the recent AQS show that featured simple straight-line channel quilting. The trend in show quilts of very dense, elaborate free-motion quilting seems to be still going strong, but the pendulum also seems to be swinging in the other direction – simple, but very graphic and effective, straight line quilting.
Since most of the fabrics I've designed for sale in my shop at Spoonflower.com (more on this another time) feature fairly complex designs, I'm thinking that straight line quilting might be an effective way to complement an overall quilt design without adding another layer of elaborate patterning.
Here is how I set up my machine:
Aurifil 50 wt. cotton thread in the top and 60 wt. Bottom Line in the bobbin
Walking foot with guide bar set 3/4″ from the needle (this width is purely personal preference)
straight stitch
stitch width: 3.5 (straight stitch setting on the Jazz, as discussed in my previous post)
stitch length: about 2.25 (this is slightly longer than the stitch I used for piecing the quilt)
I started by using my white Clover Chaco Liner to mark one vertical line through the center of the quilt. This is the only marking I'll need, since I've attached the guide bar to my walking foot. Since I don't want to have any more than half the quilt going through my machine at a time, I will work from the center of the quilt to the right-hand side of the quilt, and then rotate the entire quilt and quilt from the center to the (new) right-hand side of the quilt again.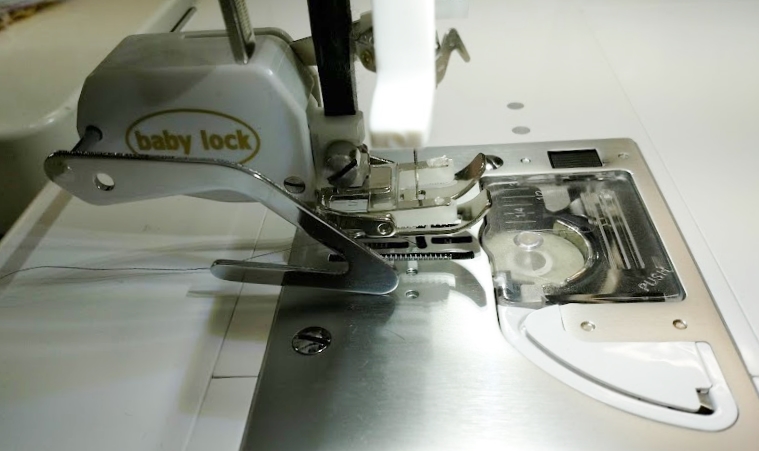 By letting the guide bar run along the previously stitched line, I'll have equally spaced lines without marking.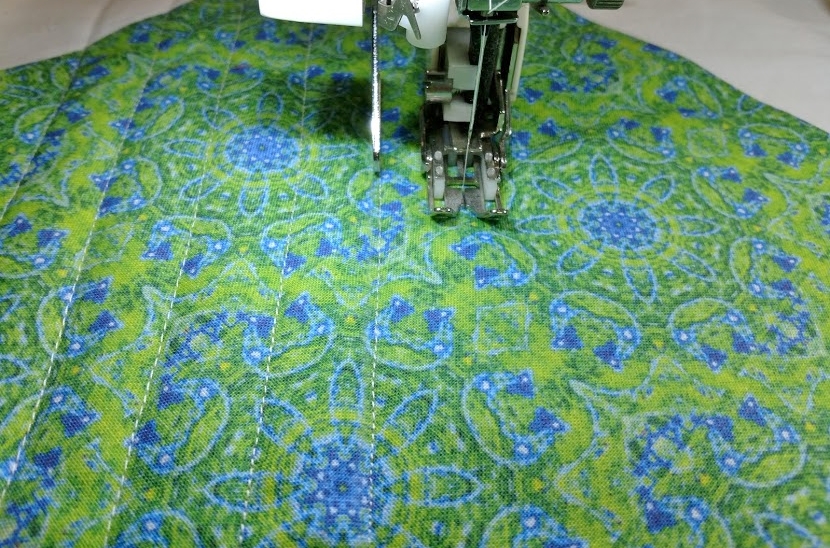 I really love the speed at which the Jazz can stitch, but the vibration and noise of the machine is getting a little annoying. I plan to experiment with ways to reduce this vibration – and hopefully some of the noise, too!