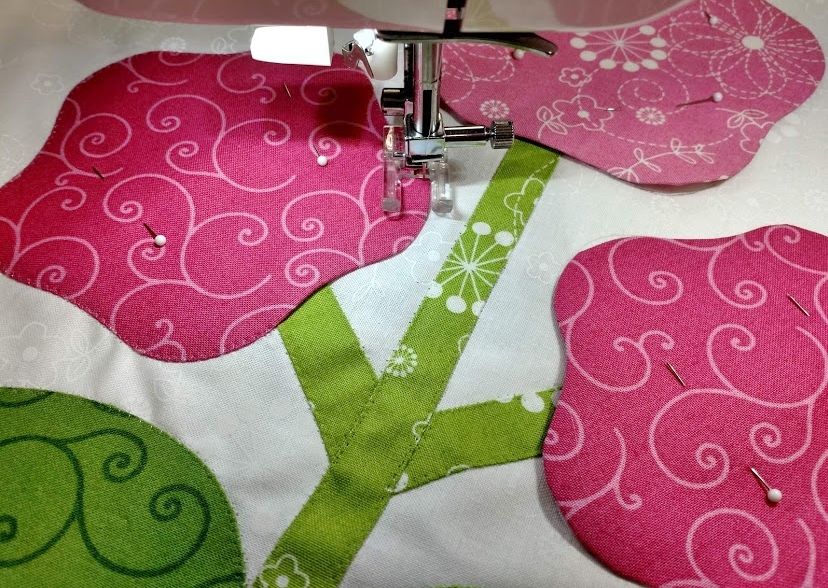 So far the Jazz is performing superbly. 🙂
But an important test for me is how well it will do with invisible machine appliqué, as that is one of my specialties. Of course, my other machines are just great for this, but I'm excited about having much more workspace on the Jazz.
Here is how I set up the machine:
.004 monofilment thread for my top thread – MonoPoly from Superior Threads
60 wt. polyester filament thread in the bottom – Bottom Line from Superior Threads
A regular zigzag presser foot works perfectly well, but I prefer an open-toe appliqué foot as it allows better visibility.
I like to use a very small zigzag stitch for this. Depending on the machine I am using, the width and length settings are usually somewhere in the neighborhood of 1.5, 1.5 or 2.0, 2.0. Here is how I set the stitch length and width on the Jazz:

After doing some test stitching on scrap fabric, I determined (to my surprise and delight!) that no tension adjustments were necessary. The stitches were perfectly balanced – no bobbin thread visible on the top of the fabric and no monofilament visible on the back.
However, I did find that the monofilament thread had a tendency to coil off and wrap around the spool pin, causing it to break; but I quickly solved that issue with a thread net placed over the spool.

I prepared my appliqué pieces by ironing the edges over freezer paper templates, which I removed later.