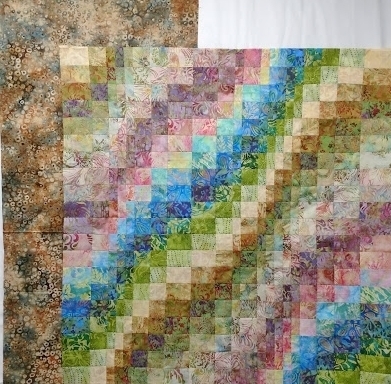 This is the seventh in a series of sew/quilt-along posts about making a bargello quilt.
I am following the Cascade pattern from Colorwash Bargello Quilts.
The body of the quilt top is complete, and now it is time for the border.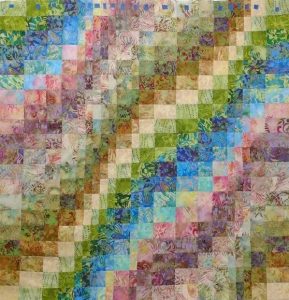 When I teach quilting classes or workshops, I usually caution class participants to wait, if possible, to make their final choice of border fabric until the interior of the quilt has been completed. This is because the sum can be much more than its parts! The way the colors, values, and visual textures of the fabrics interact with each other, as well as with the border fabric, can produce significantly different results from what you might anticipate.
Furthermore, like any scrap quilt (or multi-fabric quilt), a bargello quilt can often be made to read as a "blue" or "brown" or "green" quilt simply by adding a border of that color.
I find it helpful to lay the quilt top out on top of any fabric I am considering for a border so that I can see the border fabric on most or all of at least 2 sides of the quilt top.
To illustrate, I'll share with you some of the border fabrics I "auditioned" for this project:
I feel that several of these fabrics would have made excellent choices – each of them resulting in a slightly different impression of the finished design.
I've decided that I'd like this quilt to have a light and summery feel, and also work with the colors already used in my living room, so I've decided on the bright turquoise.
Please follow and like us: