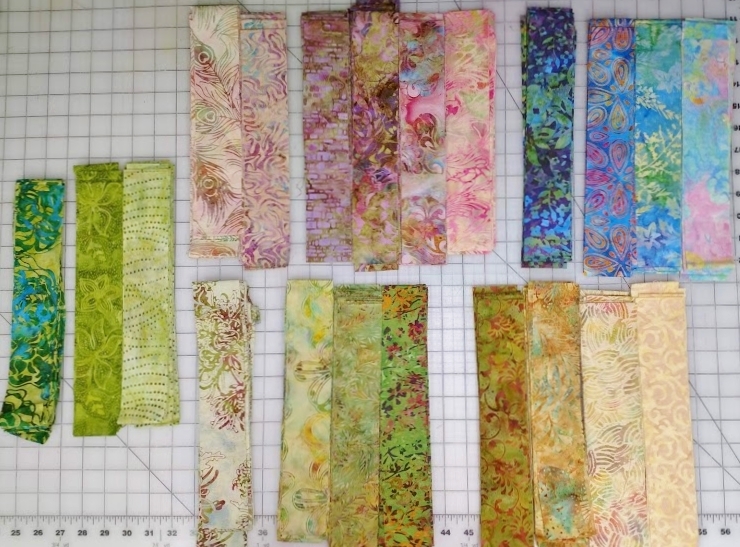 This is the second in a series of sew/quilt-along posts about making a bargello quilt.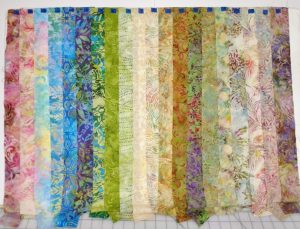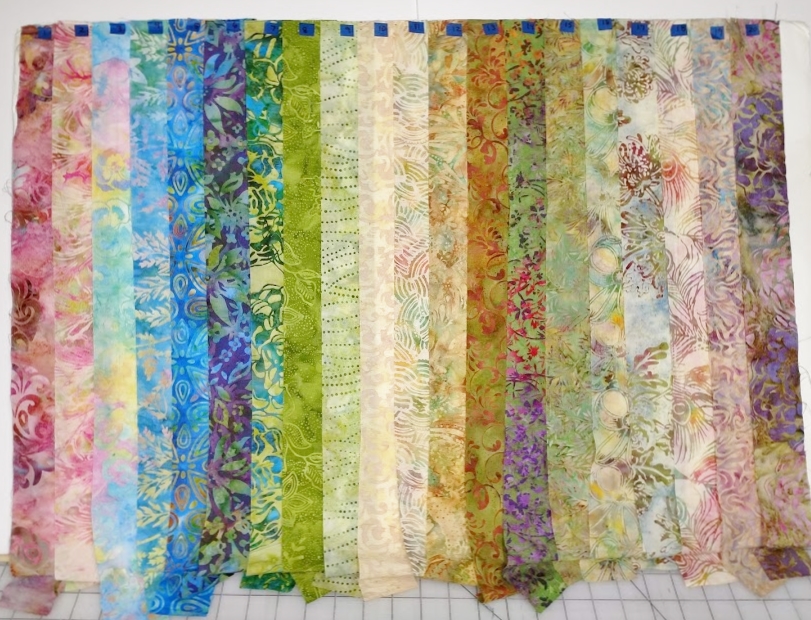 I spend two entire chapters discussing selecting a palette of fabrics and using color, value, and visual texture to help arrange them to maximum effect in my book Colorwash Bargello Quilts. I won't try to repeat all of that here, but I'll boil it down to essentials.
Note: Since batik fabrics are generally more tightly woven (and therefore have a little less stretch) than other quilting-weight cottons, I highly recommend that you stick with either ALL batik fabrics or NO batik fabrics for your first bargello quilt. The slight differential in stretch can make matching intersections more of a pain than a pleasure when assembling the quilt. However, if you have lots of strip-piecing experience, press very carefully, and are accustomed to mixing these fabrics, than feel free to go ahead – I do it myself! I just want to warn you that it has the potential to make life a little more challenging…
I generally use 18 or more different fabrics in a Colorwash Bargello quilt. Don't worry – it's a lot easier to pick out that many fabrics than it sounds! It helps if you don't overthink it at the beginning of the process. I recommend starting with either a focus fabric, a mental picture, or a theme.

The easiest type of focus fabric to work from is a medium-to-large scale, asymmetrical, multicolored print containing a range of values from dark to light. But don't fall into the trap of overmatching the exact colors in your focus fabric! Variations in color, value, and/or intensity only add to the richness of your palette.
Once you have your focus fabric, mental image, or theme in mind, start gathering fabrics that share the same or similar colors, making sure to also grab fabrics that are lighter, darker, brighter or duller. It's best to have lots to choose from!
I narrow down my choices by grouping fabrics into "runs" – 2 or more fabrics arranged from light to dark and "blenders" – fabrics that have 2 or more colors and/or values that can be used as transitions between runs.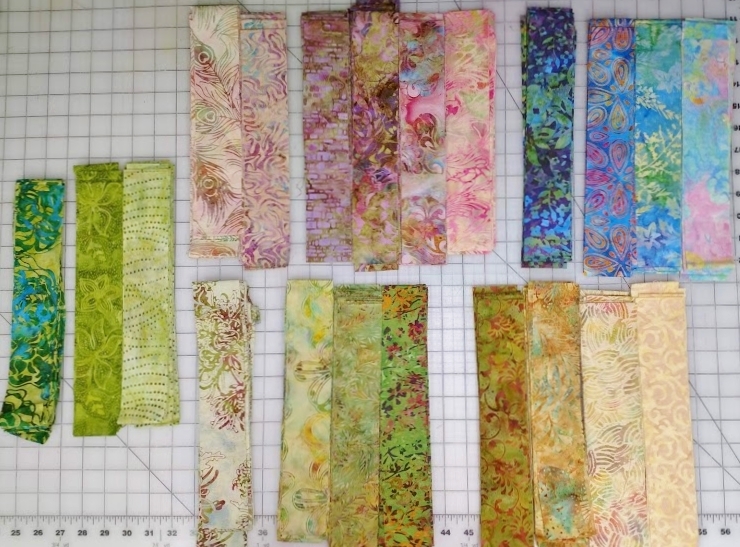 I hook runs together by placing "dark" next to "dark" or "light" next to "light" or by using a "blender" fabric between 2 runs until I have the required number of fabrics.
Sometimes I also like to throw in one or two surprises – a fabric that will echo a color or value found elsewhere in the strip set, or a strongly contrasting fabric that will create a focal point or emphasize a design line.
Since the strip set will be sewn into a tube, I also always make sure the last fabric in my strip set will look good next to the first fabric.
As a final test, I always make sure there are at least 2 areas in the strip set that are relatively lighter than everything else and at least 2 areas in the strip set that are relatively darker than everything else. This is crucial to achieving luminosity.
When I am satisfied with my fabric choices, I cut out my 2″ strips, lay them out in order, and number them with small pieces of painter's tape or masking tape.

Numbered strip set for Colorwash Bargello quilt (the fabrics are overlapped in order to fit on my foam core board)
Please follow and like us: