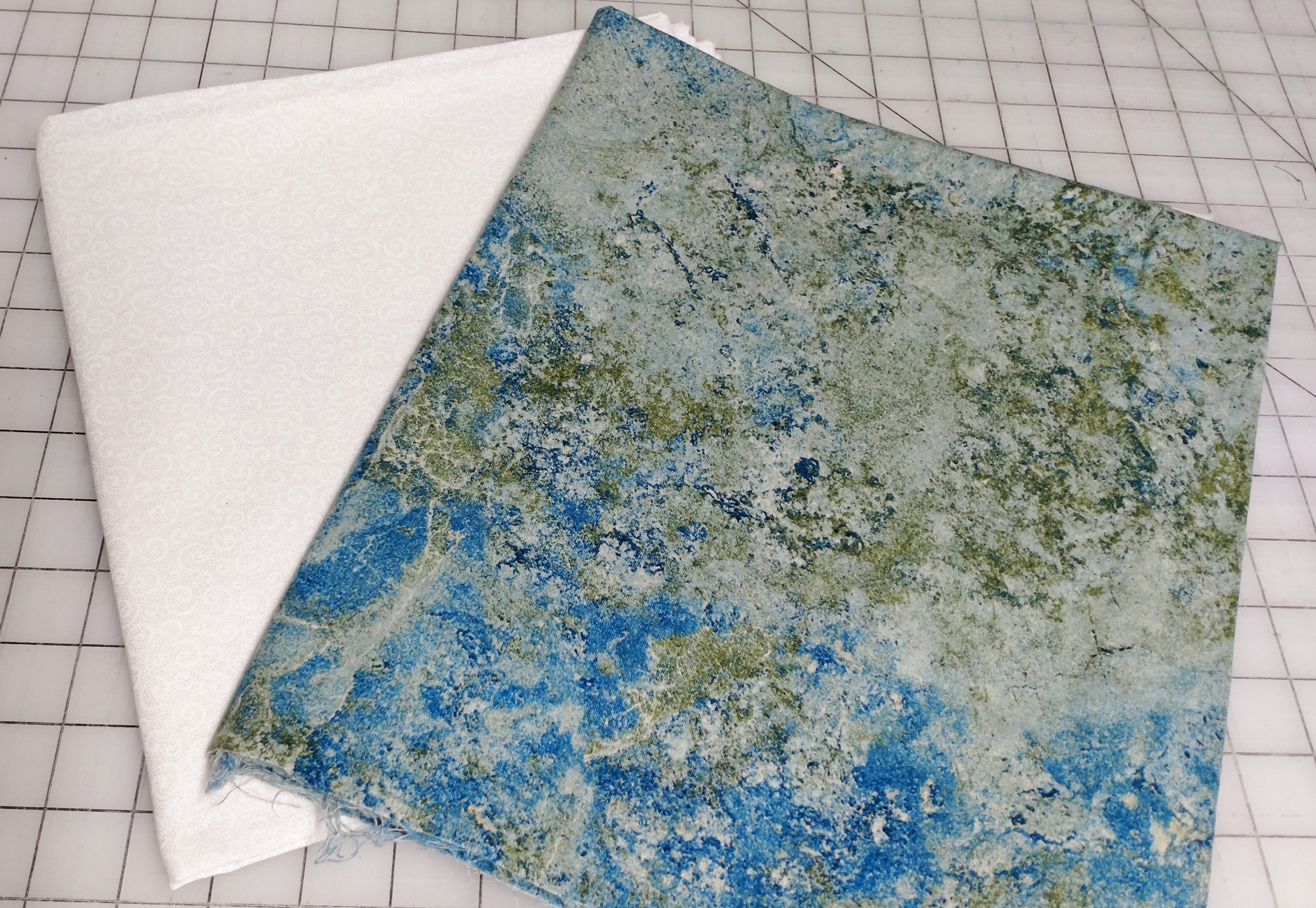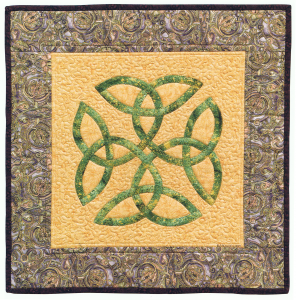 This is the first of a series of posts that will take you step-by-step through the process of creating a Celtic Quilt.
We'll be creating the True Lover's Knot, one of the beginner-friendly patterns from my book, Celtic Quilts: A New Look for Ancient Designs (pp. 36-29).
Along the way, we'll explore how to make a 16″ x 16″ machine appliquéd and quilted wall-hanging (start to finish), a quilted pillow, or a quilt block that can be incorporated into a larger quilt.
What will you need?
Understandably, I highly recommend my own book, since it contains complete instructions as well as patterns; but if you have a Celtic design from another source, you may still find my methods helpful.
Fabric
Good quality, colorfast, 100% cotton fabric will be the easiest to work with, particularly since adheres well with various fusibles and adhesives, and holds its shape when pressed.
For the knotwork design, I recommend choosing fabrics that have some visual texture, rather than choosing solid color fabrics. Not only is a subtle print more interesting than a solid fabric, the print will tend to help hide any machine stitching that is supposed to be "invisible".
Quilting-weight cottons are more forgiving when it comes to camouflaging your stitches. Batik cottons are less forgiving, since they are more tightly woven and the stitches don't sink down into the fabric as easily. The tighter weave also makes it a little more challenging to go around tight curves without creating tiny pleats in the fabric, but I still use batiks if the colors are right.
For the background, I recommend something that contrasts significantly with the knotwork fabric. I usually select either very light fabric or a very dark fabric for this.
Below are some close-ups of a some of the projects from my book. You can see that I don't shy away from prints – although I do generally look for prints with low internal contrast.
As you look at the photos, you'll also see that I approach fabric selection in different ways for different projects.
For some designs, particularly when the design is formed by a single line, I use a single fabric throughout: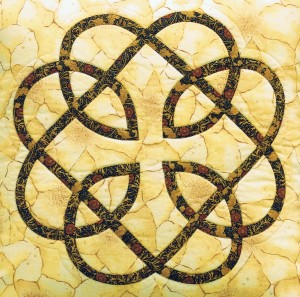 For designs involving 2 or more lines that are intertwined with each other, I often use a separate fabric for each line: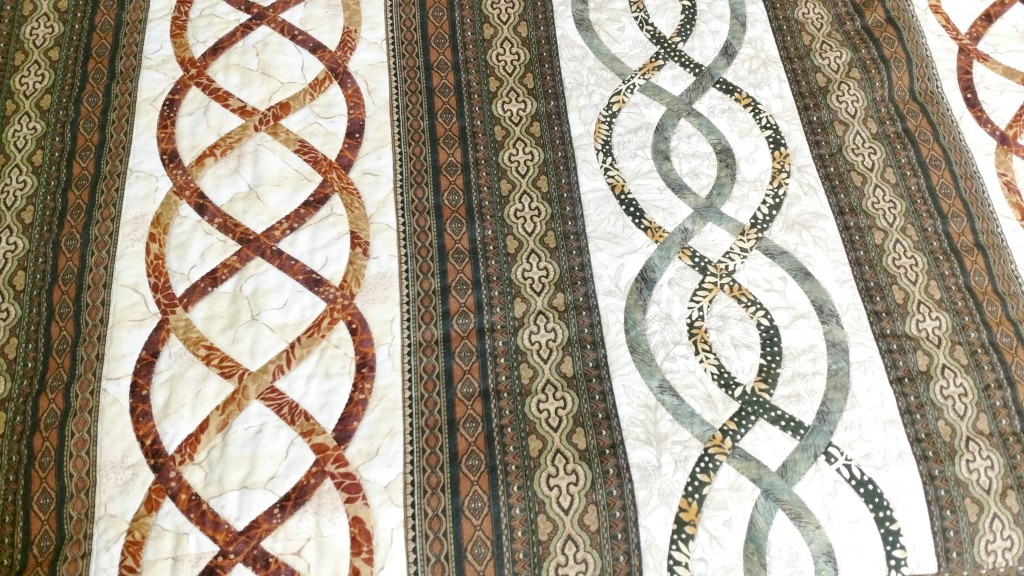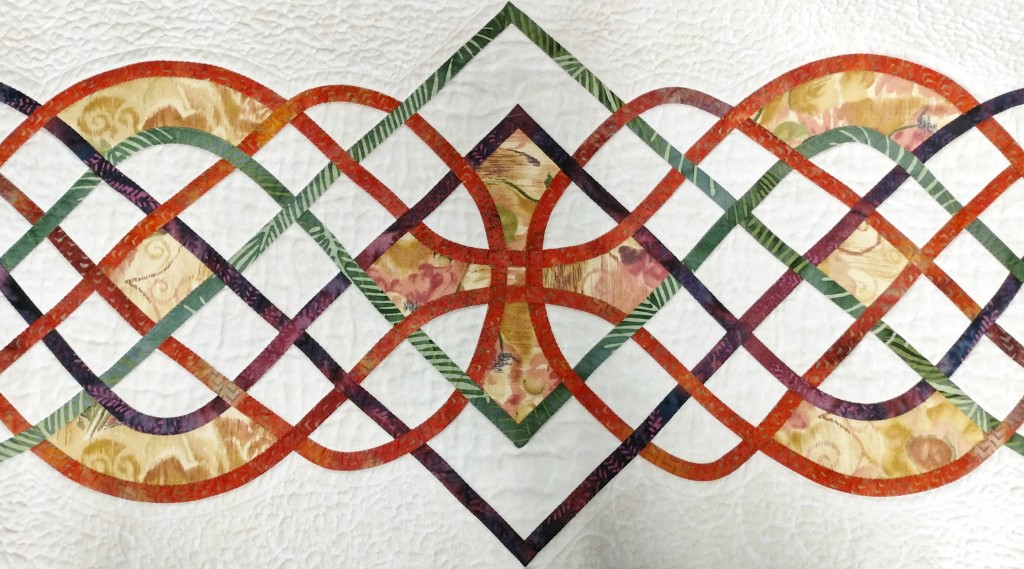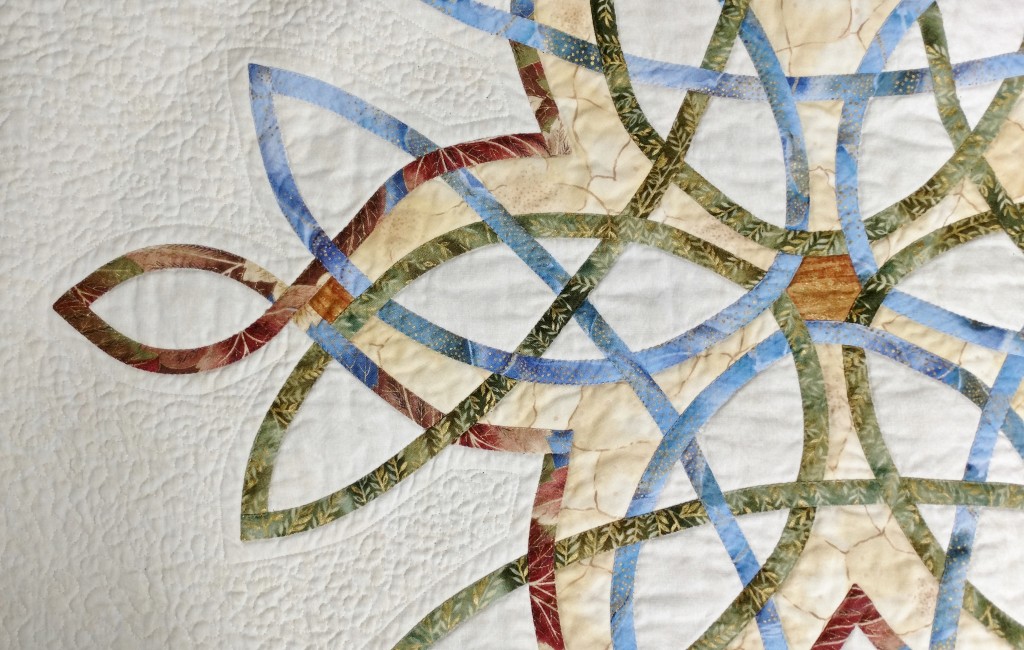 Following another example often found in ancient manuscripts (along with the first two coloring styles), I sometimes use two or more fabrics to highlight specific portions of a design: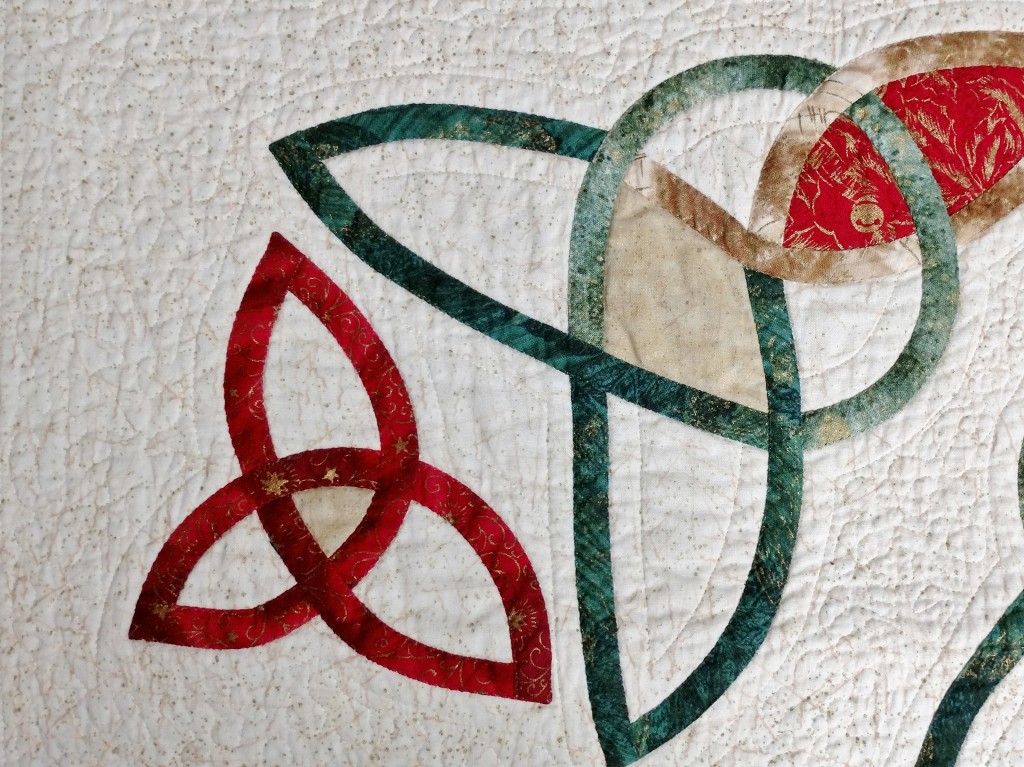 You'll also see that some of the spaces inside the designs have been either painted or filled with fabric insets, but that's a topic for another day…
For the True Lover's Knot sew-along, I will be using: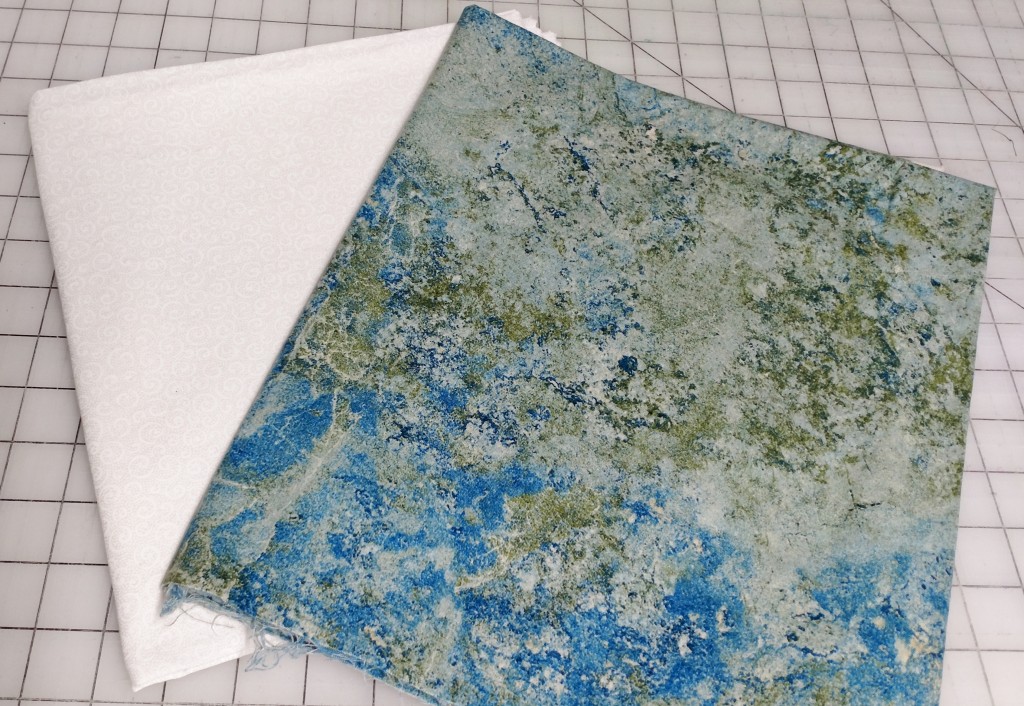 1 fat quarter (approx. 18″ x 22″ ) quilting-weight cotton fabric for the appliqué (bias tubes)
1 fat quarter quilting-weight cotton fabric for the background
Whever possible, I recommend waiting until after the main body of the quilt has been completed before making final decisions regarding border and binding fabrics.
If you absolutely can't wait to pick out the rest of your fabric, you'll need the following additional items:
1 fat quarter quilting-weight cotton fabric for the border
5/8 yard quilting-weight cotton fabric for the backing and (optional) sleeve
1/4 yard (cut the long way, 9″ x 40-44″) for the binding (not necessary for pillow option)
18″ x 18″ square of batting, preferably low-loft cotton or cotton-blend. I will be using Hobb's Heirloom 80/20 Cotton Fusible Batting, but there are plenty of other great options out there.
Happy shopping!
Please follow and like us: