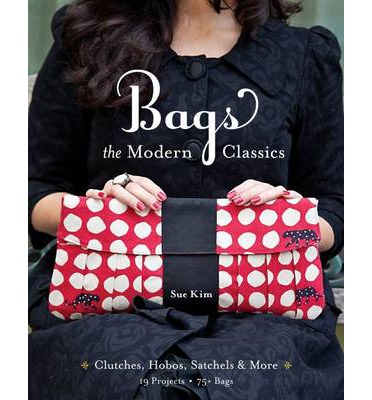 From C&T Publishing:
The bag makes the outfit!
• Make your own fashion statement with these sophisticated, runway-worthy bag designs
• Each of the 19 projects has multiple variations for more than 75 different stylish ways to carry it all
• Create perfectly polished bags in no time with easy construction techniques
Turn your favorite fabrics into a fashion statement! From chic wristlets to functional carryalls (and everything in between), each project includes a full-sized pattern, easy-to-follow instructions, and inspirational photos. All the sewing basics you need are here, and you will learn some more ambitious techniques such as stitching hook-and-loop tapes, making darts and pleats, and attaching magnetic snaps or zippers.
I have a fairly large collection of books and patterns for bags, purses and totes; but I'm always on the lookout for fresh approaches, new techniques or innovative styles and shapes. However, newest isn't always best, and this book from 2011 is one of the books I most often recommend for beginners. Although these projects don't feature a lot of bells and whistles (complicated hardware, multiple pockets, etc.), the clean, classic lines provide great jumping-off points for more advanced sewists to customize to their heart's content.
What I loved:
A modern take on classic shapes and styles
Pullouts with full-size patterns – no need to visit a copy shop or to try to enlarge anything
Clear, step-by-step photos
Beginner-friendly instructions
Plenty of suggestions and variations to get the creative juices flowing
Versatility & Giftability – good-looking, useful bags that anyone can use
What I missed:
More pockets! And more types of pockets! But at least that is something that can easily be fixed.
Here are a few of the projects I made from the book, along with whatever modifications I made to the pattern:
Sunglasses Case:
I made these twice, once with a magnetic closure, and once with Velcro Fabric Fusion (fused, no-sew) for the closure. They worked equally well.
I used Nancy Zieman's Wrap 'n Fuse* to make my own piping. I used a quilting-weight cotton, and determined that there was adequate stretch on the crossgrain (selvage to selvage); no need to cut the 1 1/2″ strip of fabric for the piping on the bias. Using the crossgrain is quicker, easier, and more economical, too. Note: I clipped the seam allowance of the piping to help it go smoothly around the curve.
Both times, I trimmed down the seam allowances around the curved edges of the body of the glasses case with pinking shears instead of clipping them – much faster!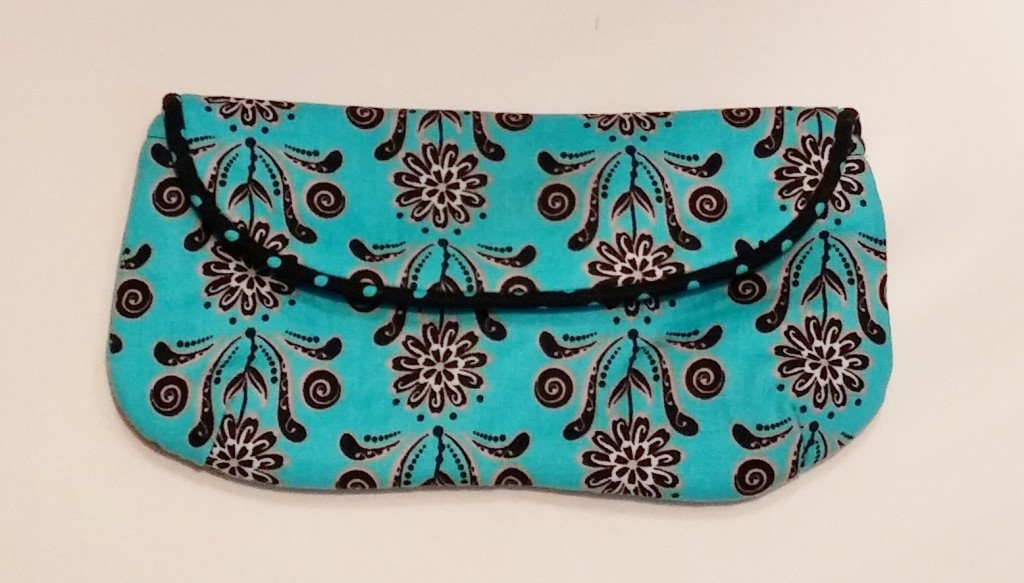 Wristlet Zipper Purse
I made this twice. The first time, I split the strap and added hardware (shown below).
The second time, I omitted the pleated panel and used the same pattern piece for the front as is used for the back and for the lining. I liked both versions.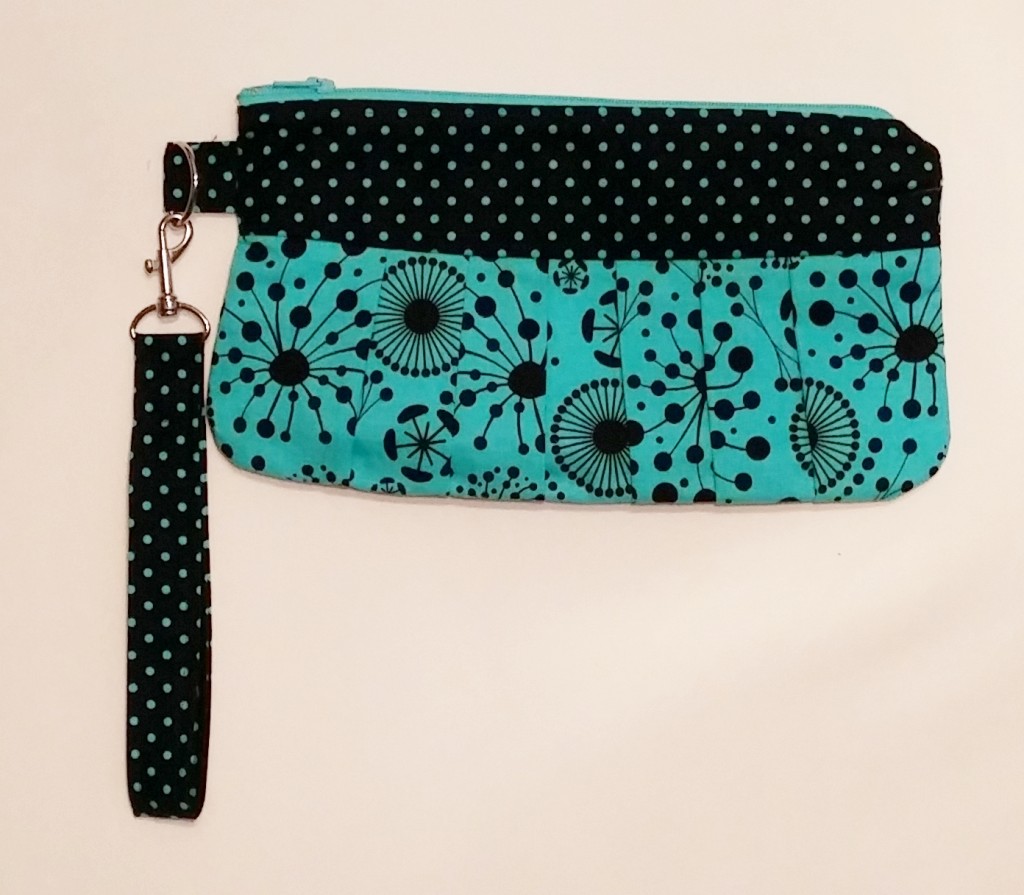 Glenda Clutch
I think this is potentially one of the most versatile patterns in the book. In cotton, it can be fun and practical; in satin or silk, it can dazzle as a charming evening clutch. It would also easily lend itself to embellishment – a special pin, decorative button, fabric flower, etc.
This is another pattern I made twice when I was reviewing the book. The first time, I used lightweight fusible fleece for the interfacing and lined the bag with PUL (waterproof Polyurethane Laminate fabric) to make an easy-to-clean make-up bag.
I again used the Nancy Zieman Wrap 'n Fuse* to make the piping, again cutting the 1 1/2″ fabric strip on the crossgrain instead of on the bias.Note: I clipped the seam allowance of the piping to help it go smoothly around the curve.
Both times, I pinked the seam allowances around the curved edges of the body of the bag instead of clipping them.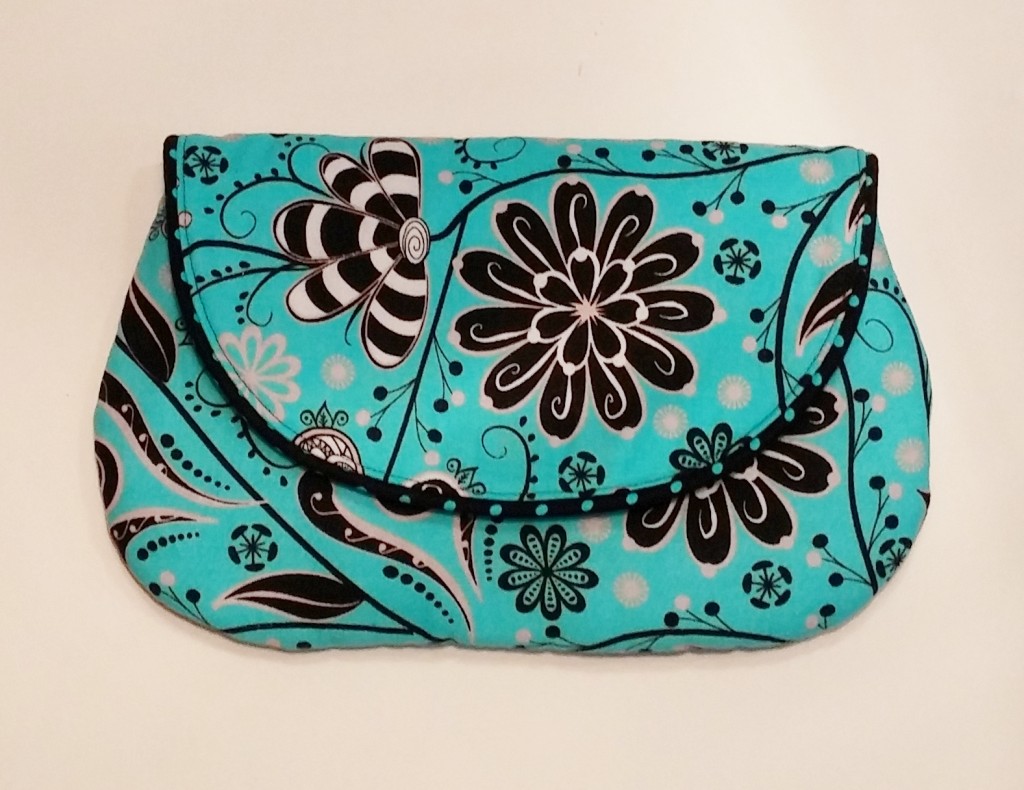 Glenda Clutch from Bags: The Modern Classics by Sue Kim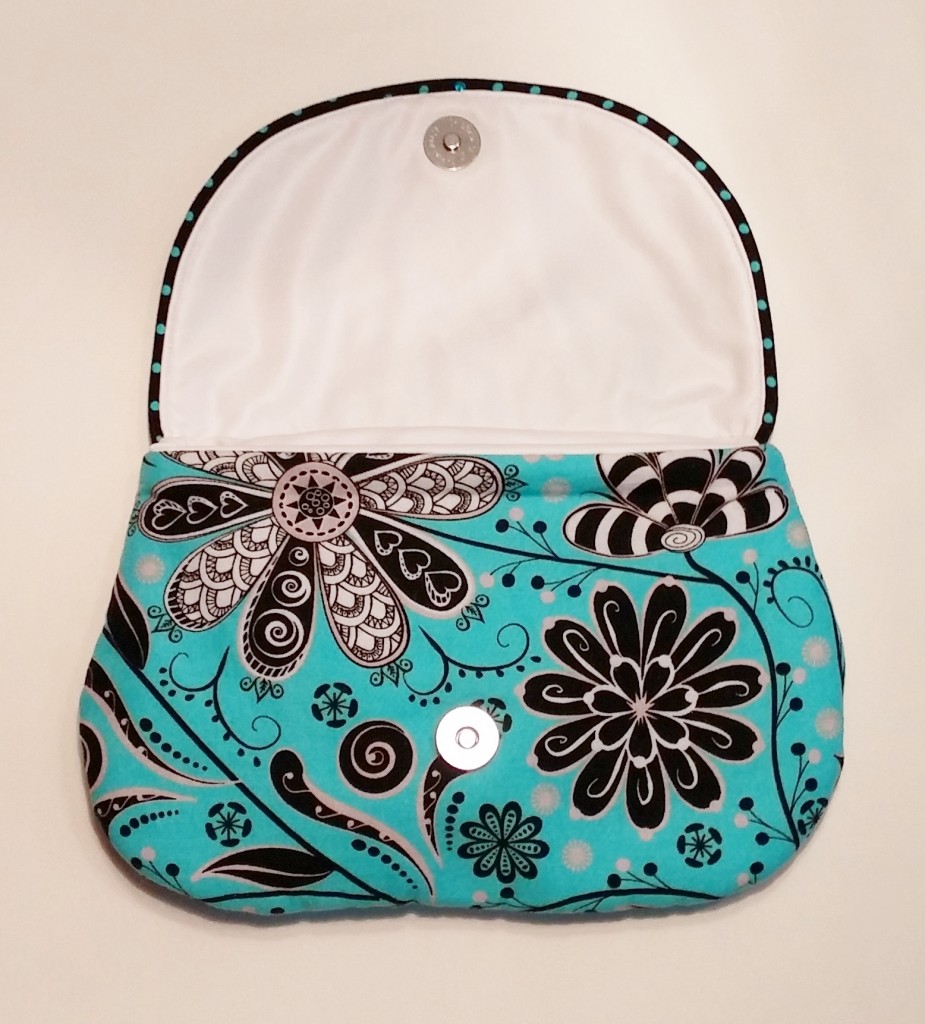 I also experimented with Soft and Stable** from ByAnnie as an alternative to the lightweight fusible interfacing called for in the pattern. (I used 505 temporary adhesive spray*** to keep the layers together during construction.) It gave the bag a lovely defined, resilient shape. (photos below)
A nice surprise – the thickness of the Soft and Stable naturally pulled the lining forward when I topstitched around the flap, creating the look of piping.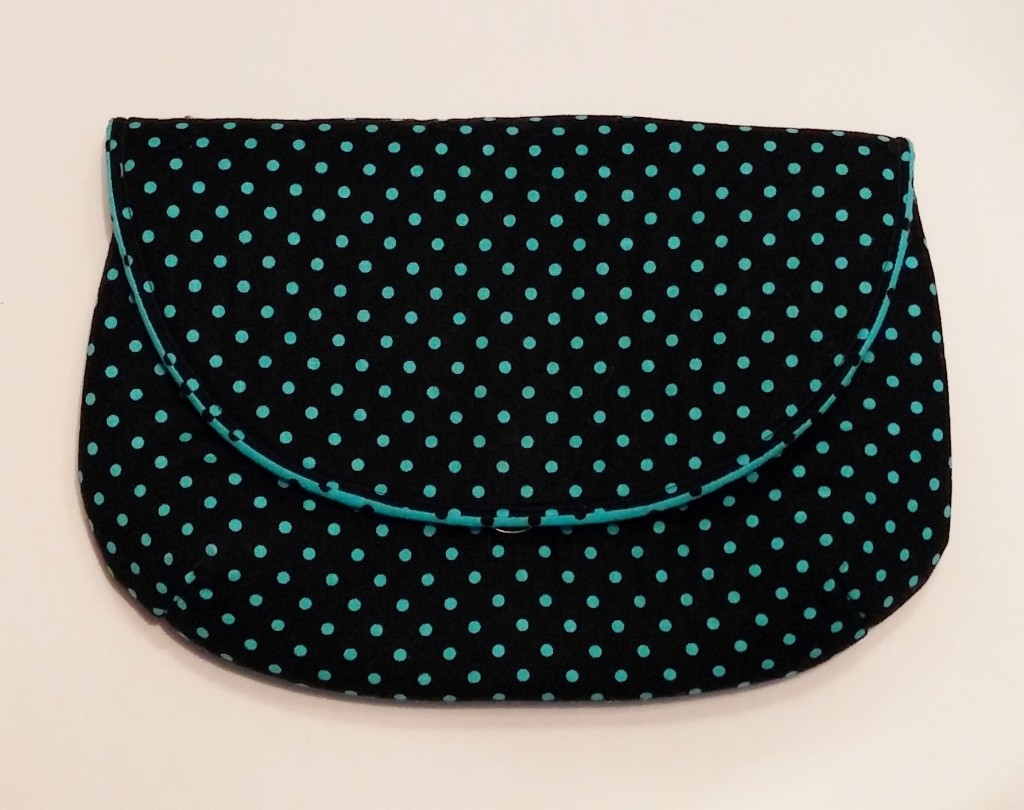 Glenda Clutch from from Bags: The Modern Classics by Sue Kim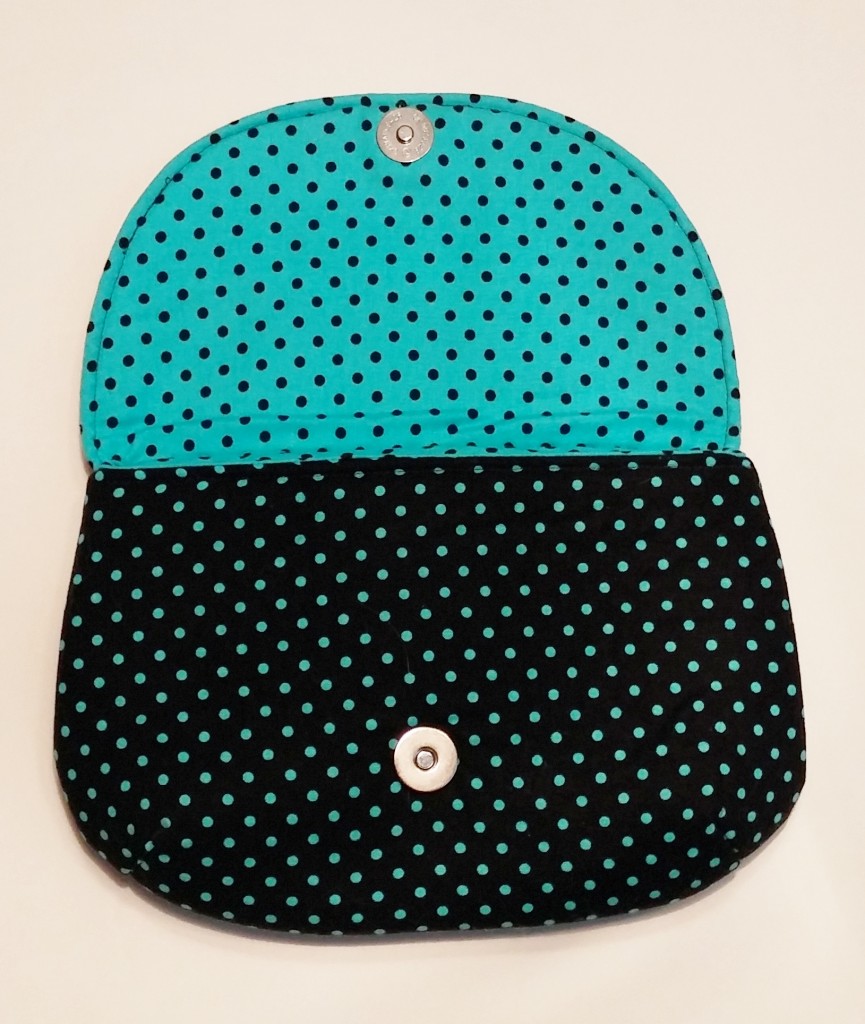 Glenda Clutch from from Bags: The Modern Classics by Sue Kim
*Nancy Zieman Wrap 'n Fuse Piping – Create piping in minutes. This amazing product allows you to quickly fuse your fabric to a fusible covered cording to instantly create piping. Wrap fabric around the fusible cording and press. It's now ready to sew into your project! Great for pillows, purses, potholders and more.
**Soft and Stable from ByAnnie – overview and video
***505 Spray and Fix – Temporary, repositionable, fabric adhesive used to temporarily bond fabric. Odorless, colorless, no mist, does not gum sewing needles. Useful for machine quilting, basting, holding fabric to stabilizers in machine embroidery and hemming. Extremely helpful when using interfacing, batting or fillers such as Soft and Stable which are not already fusible.
Metro Shopping Bag
I added two pockets to the inside of the bag, cut sizes 7″ x 9″ and 8 1/2″ x 10 1/2″.
I added Shape-Flex lightweight fusible interfacing to the lining as well as to the exterior pieces, in order to better support the pockets.
I omitted the piping this time.
I found it easier to sew with the long side piece on top of the front piece, and then on top of the back.
Instead of using leather or suede for the handles, I opted for 1 1/4″ wide black webbing embellished with the same fabric I used for the bag.
I love the shape of this roomy bag, but if I make this again, I think I will make the straps considerably longer; they are a little too short to comfortably carry over the shoulder.

Metro Shopping Bag from from Bags: The Modern Classics by Sue Kim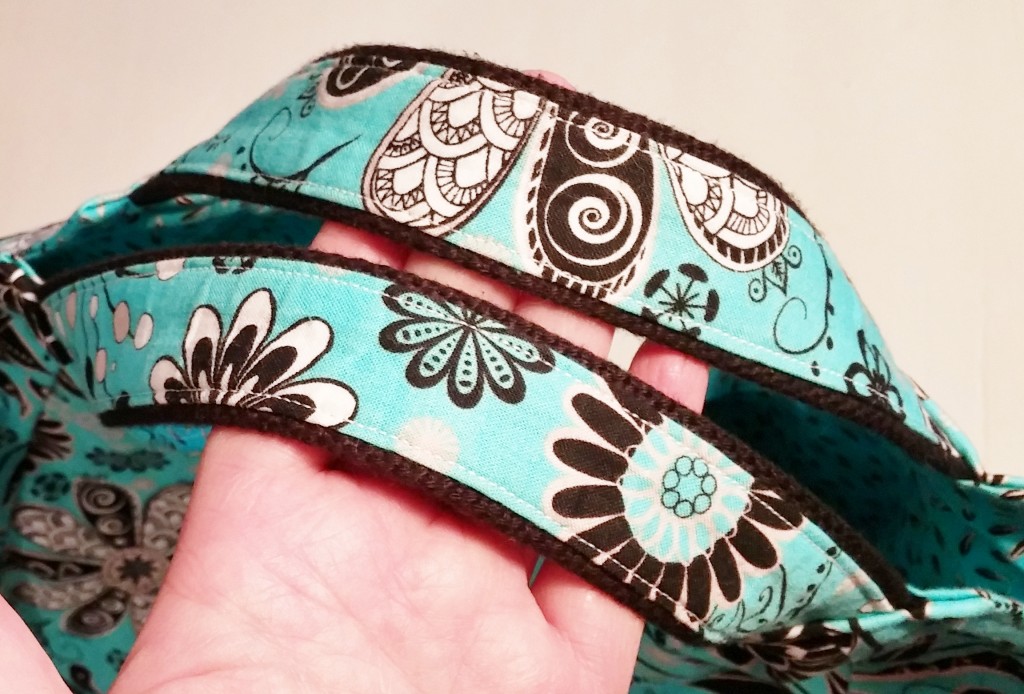 Alternative method for straps – topstitching fabric to coordinating webbing instead of using leather or suede
Chic Hobo Bag
Chic Hobo Bag from from Bags: The Modern Classics by Sue Kim – photo shows zippered pocket I added to the outside of the bag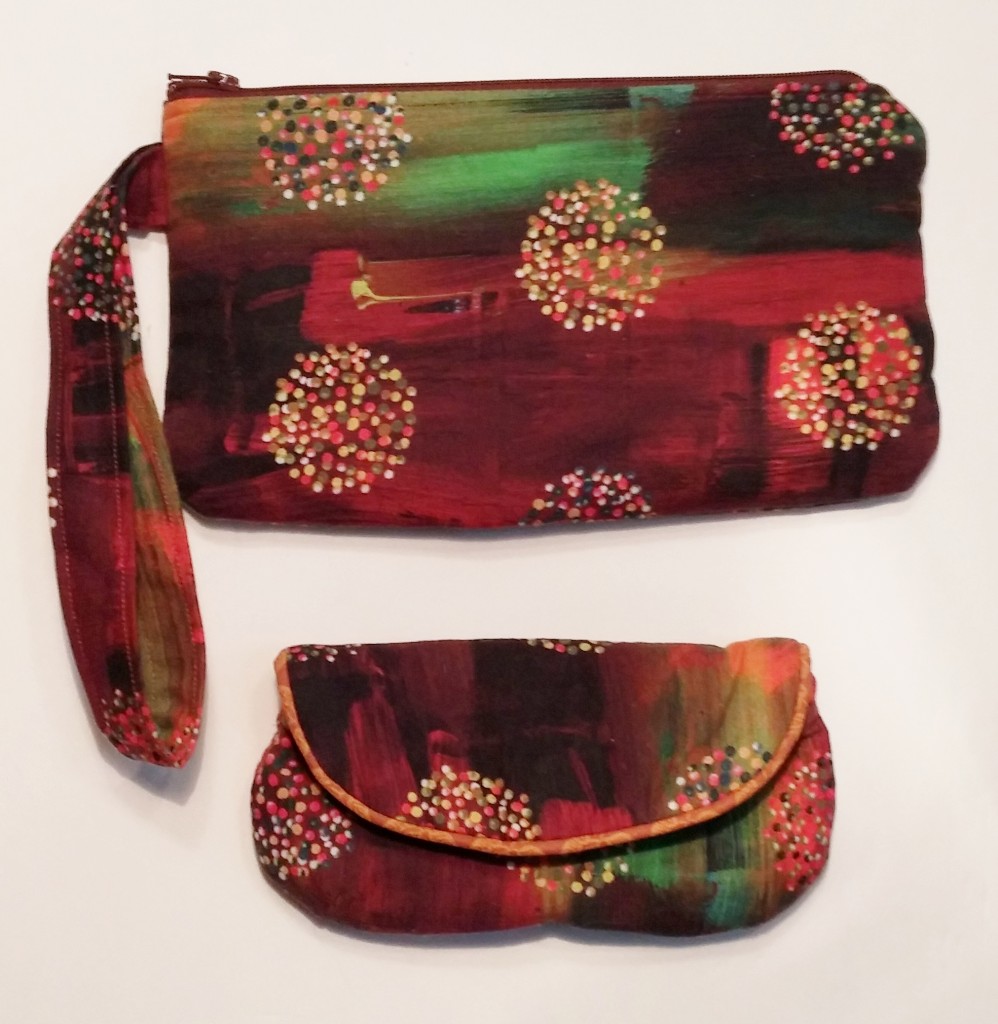 Wristlet and Sunglasses Case from from Bags: The Modern Classics by Sue Kim, both lined with lightweight fusible fleece for a sturdy but soft, lightly padded finish.
My book is full of post-it notes reminding me of more projects I intend to make for myself, friends, or family members – enough to keep me out of trouble for quite a while…
One more note – I found it helpful to trace my patterns onto Freezer Paper
Yes, the stuff you buy at the grocery store! Not only do you get a sturdy, reusable pattern, but you can use a hot, dry iron to press the "waxy" side of the freezer paper to your fabric (heat setting suitable for the fabric you are using – I was using cotton) and the freezer paper will adhere to the fabric, making it super easy to accurately cut pieces out, even with minimal pinning. The freezer paper removes cleanly, leaving no residue. (Just don't touch the iron to the waxy side of the paper!)
I prefer to work with complete patterns instead of half-patterns placed on a fold, so any half patterns from the book I traced onto folded freezer paper so I could open it up for a complete pattern. The "paper" side of the freezer paper is easy to write on, so I always note the pattern name, pattern source, piece (front, back, lining, etc.), grainline (if applicable), and any darts, fold lines, pleats or placement for closures.
Happy Sewing!