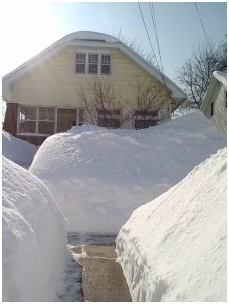 What a crazy winter! Since I was in Africa in 1978-1979 and missed the record-breaking snow and cold of that winter, I have never experienced anything like this before. Wow! We are grateful that we haven't had to deal with the power outages other areas have been affected by, and that the water main break at the end our street was fixed in a very timely manner. Truly, we have nothing to complain about. But… we've all had enough snow to last us a LOOOOOONG time and winter isn't even over yet.
Fortunately, I have more than enough to do to keep myself happily occupied. (Actually, I have a sufficient backlog of potential projects to keep me occupied for the next century or two – but that's another topic.)
At any rate, some determined experimentation in my sewing room lead to the exciting discovery that while sitting down and using my sewing machine leads to imminent mutiny on the part of my neck and spine, raising the machine up to counter height and standing worked wonders. I also found that short bursts of sewing spread throughout the day was just what I needed to start turning out new samples again. Hurrah!
The next challenge was that my much-loved sewing machine finally gave up the ghost. I knew the day was coming, so I've been setting money aside for a while; but I was pretty sure I didn't have enough for the machine I had my eye on. So I narrowed it down to three models and gave my friend (and employer) Brian a call at Lakeshore Sewing.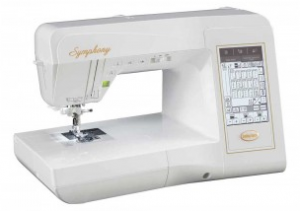 Yippeeee! I am the ecstatic new owner of a Baby Lock Symphony! It's a step up from any other machine I've ever owned, and I am just thrilled to start exploring all the new-to-me features.
I'm especially excited about how much easier this machine will be to use. I will happily sew on even a basic machine, but will thoroughly enjoy the great lighting, extra space to the right of the needle, generous extension table, 450+ decorative stitches, stitch-editing capabilities, fabric sensor system, advanced pivoting features, automatic threading & thread cutting, speed control and the stop/start button that will allow me to sew without using a foot pedal.
I'm also delighted that I'll be able to continue to use my collection of specialty presser feet (in addition to all of the presser feet that come with the Symphony automatically).
Who cares that the snow banks are well over my head – I'm off to sew!