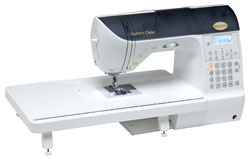 One of the questions I am asked most frequently is "What sewing machine (or brand of sewing machine) do you recommend?"
I always feel a little awkward about answering this; while my current Baby Lock machine is my favorite machine I've ever owned, I've also happily sewn or quilted on just about every other major brand out there.
Ultimately it comes down to this:
What kind or sewing or quilting do you want to do?
What kind of features are most important to you?
What dealers are in your area and what is their reputation for customer service and education?
That said, here is a list of features I suggest looking for when shopping for a new sewing machine:
a nice straight stitch (check the stitching on some scrap fabric – some machines do not produce a very "straight" straight stitch)
a straight-stitch throat plate (optional but can be extremely helpful when piecing)
an adjustable zig-sag stitch (the zig-zag throat plate is usually standard in most machines)
a throat plate and bobbin case that is easy to remove and replace for cleaning (Note: Quilters should take these out and clean them at least every 6-8 hours of continuous sewing. Dust, lint, bits of thread, etc. can build up in these areas and throw off your tension settings. You should also replace your needle this often. Don't wait for it to break!)
an upper thread tension that you can easily change (some machines now have an automatic upper thread tension that is not easily overridden – you might need to do this when using monofilament or other specialty thread, or certain specialty techniques)
feed dogs that can be dropped (try not to get the kind that have to be covered with a plate–the free motion/darning foot can get hung up on the plate and may not function properly)
a drop-in, top-loading bobbin that will be easy to monitor and refill before you run out of thread in the middle of a line of stitching
a needle-down feature (so you can set the machine to stop sewing with the needle down or stop with the needle up, depending on what you are doing)
adjustable speed control (optional; but I think it helps a LOT, especially with free-motion quilting)
an add-on table that gives you a nice level (and larger!) working surface
Depending on the size of your projects, I would also look at getting a mid-arm machine, or at least one that has as much space between the needle and the right side of the machine as you can find in the price range you are considering. (My machine actually doesn't have a very generous space; but that is OK for me because I no longer have the physical strength to handle big quilts anyway.)
My MOST FAVORITE feature of my current machine – I can sew without a foot pedal! I have a stop/start button and speed control slider, so I can use my machine even when I can't really feel what is going on with my feet. (It came with a foot pedal – I just never use it.)
Recommended presser feet for quiltmaking – the basics:
walking foot (also called even-feed foot)
darning foot (also called free-motion foot)
open-toe appliqué foot (similar to a zig-zag foot, but there is more open space at the front, so you have much better visibility)
quarter-inch foot (this is optional, but many people feel that it makes their quarter-inch seams much more consistent and accurate)
I'm also a HUGE fan of decorative stitches – the more the merrier! – but that may not mean as much to you.
Last but not least, if at all possible, I recommend buying a machine from a local dealer rather than a chain store. You may pay a bit more (or maybe not!), but what you'll get tends to be higher quality and you'll usually get better warranties and follow-up care and support.
Happy Sewing!