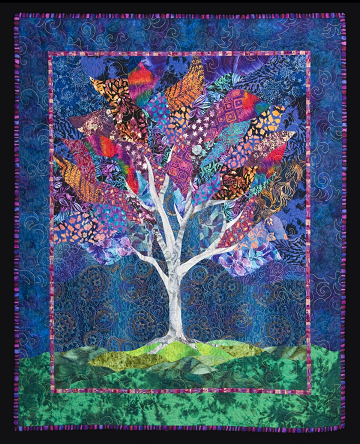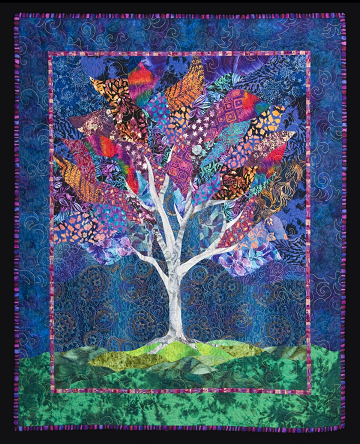 Evolve or Die. That sounds terribly ominous, doesn't it?
A bit Borg-ish, even… (Yep, that's a Star Trek reference; and nope, I didn't see it coming either.)
But there's some truth there.
Letting go of the old in order to make way for the new – I confess that sometimes it feels like that's what my entire life has always been about. Transitions – sometimes eagerly anticipated, sometimes forcibly thrust upon me, sometimes resisted and sometimes embraced. It can be hard to let go of the known (even when it's less than perfect) in favor of the unknown… but it can also be exciting, can't it?
That's how I feel about this new website and blog. I've been resisting it for a long time, but I'm finally ready to get moving – even though I'm not entirely sure where I'll end up.
When I started my first website all those years ago, my main goals were to present my work, publicize my classes, showcase books I'd authored, connect with my students and readers, and make myself visible to guilds and organizations looking for speakers.
Later my brother gave me the wonderful gift of a customized website he personally designed for me, and that website has served its purpose wonderfully well.
Over the years I've continued to design, write, teach and connect with other creative people around the world. I've been able to take advantage of wonderful opportunities to present my work and/or offer classes literally from coast to coast – New York to California and North Dakota to Texas. I've been very grateful for the privilege to do so and for the all wonderful people I've met along the way.
However, things have changed. Physical challenges have affected my mobility and stamina to the point that I had to stop travelling and limit even my local classes. However, it hasn't limited my curious imagination, nor has it affected my desire to be useful – to assist others in discovering and celebrating their own creative spirit.
Ironically, over the course of my career I've found that work I created especially with an audience in mind was seldom as "successful" or well-received as work that came out of me because it HAD to – work that was completely personal, that reflected some aspect of my own inner journey, be it physical, intellectual, emotional, spiritual, or any combination thereof. The additional layer of vulnerability was (and is) scary, but sharing from an authentic place seems to allow viewers more room to respond authentically in return – whether or not they actually find all my aesthetic choices appealing.
So with that in mind, I'm inviting you to take a peek into my journey or even to walk together for a bit, if you'd like.
Welcome!