This is the sixth in a series of posts that will take you step-by-step through the process of creating a Celtic Quilt.
The lines that form my Celtic and Celtic-style knotwork designs are formed by cutting bias strips of fabric and sewing them into tubes, which are then fuse-basted onto background fabric.
The fabric tubes have been trimmed and pressed, and are ready to go. How do you get them positioned smoothly on the fabric? 
First of all, I don't recommend using pins – they will only poke you and get in the way (ask me how I know this!)
When I first started working with Celtic and Celtic-style designs, I preferred 1/4″ wide strips of Steam-a-Seam2, which is pressure-sensitive and holds the fabric temporarily in place until you press with an iron to fuse it permanently.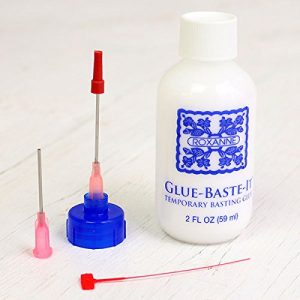 Some years later, I discovered Roxanne's Glue Baste-It. I love that it only takes small droplets of glue to hold the fabric in place, dries very quickly – especially when you run a hot iron over the fabric – and is water soluble, so it is easy to dampen and reposition something if necessary. I have never had any issues with it discoloring my fabric over time when I haven't washed my samples, but I love that it does wash out.
The needle-nosed applicator is terrific for applying just the wee bit that is needed, but always remember to remove the applicator tip, clean it out thoroughly, and replace the original bottle cap on the glue bottle for storage. (Again, ask me how I know this is so important…)
Here is a link on Amazon if you can't find it in your local sewing or quilt store:
:
Now let's get started:
Please follow and like us: